Style-Challenge Neon-Pink
(english below)
Manchmal liebe ich es, aus einigen Basic-Teilen verschiedene Looks zu bauen.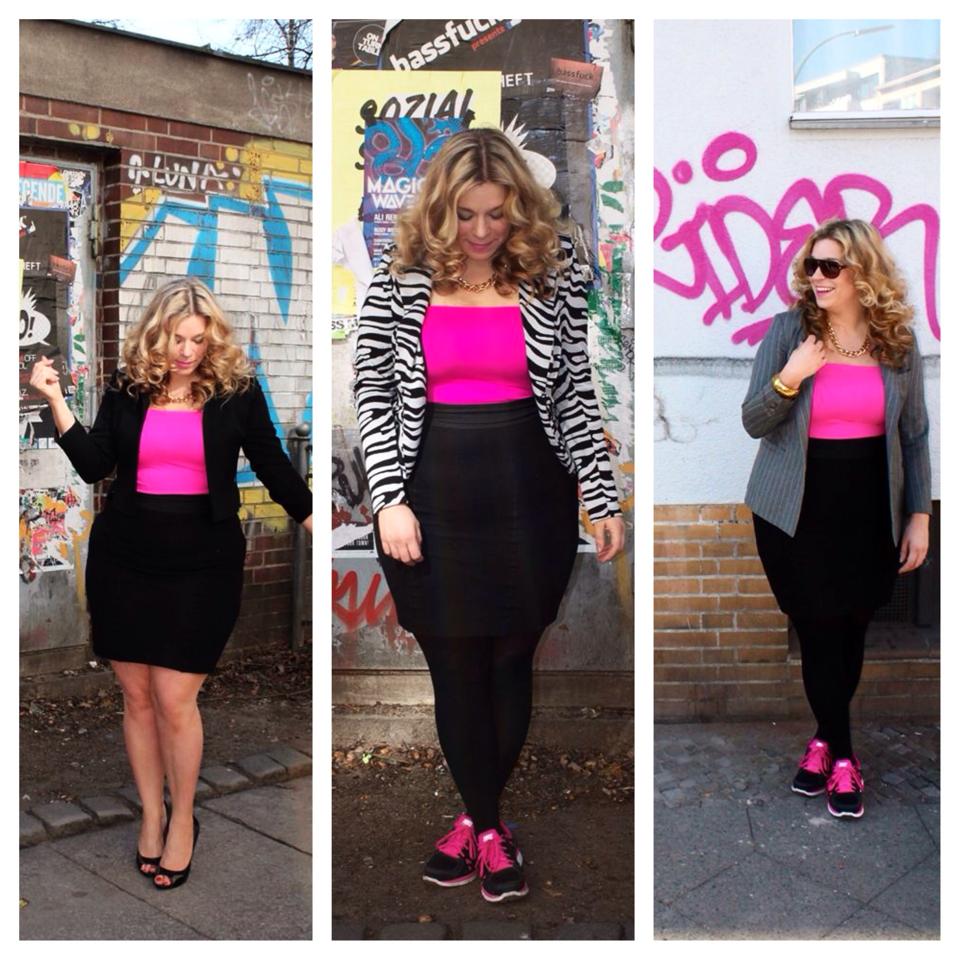 Hier haben wir nun einen simplen H&M Stretchrock, der schon ein bisschen seine Form verloren hat. Es wird wohl Zeit für einen neuen Basic Rock. :=)
Dazu  trage ich eines der Tubes von Kidneykaren.
Ich habe schon von den Multitops in einem älteren Artikel von mir berichtet.
Ergänzt wird das Ganze durch  eine schwere Goldkette.
Das ist die Basis, auf der die drei Variationen aufgebaut sind.
Ich bin ganz ehrlich, ich finde die Kombi mit grau ist am einfachsten.
Pink und grau passen sehr schön zusammen.
Das Grau stellt eine gute Balance zum Neon-Pink her.
Dieser traumhafte Blazer ist von dem Hamburger Label Musswessels.
Wenn man bei Nadelstreifen nicht aufpasst, können sie schnell bieder wirken.
Aber in Kombination mit dem Neon-Pink zeigt sich das genaue Gegenteil.
Das Adjektiv lässig passt da eher als Beschreibung als bieder.
Abgerundet wird das Ganze mit einer blickdichten Strumpfhose und Sneakers, ebenfalls in pink.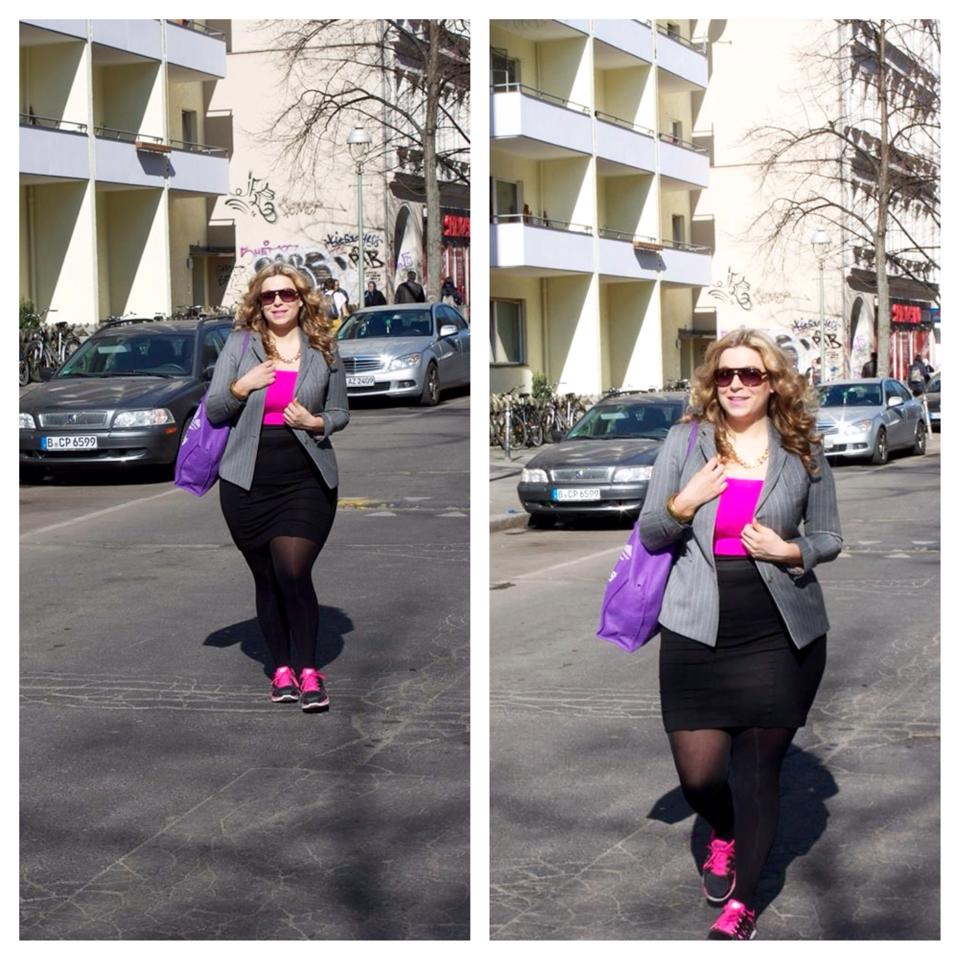 Bei Variante 2 trage ich einen Blazer aus weichem Stretch-Material mit Zebra-Print.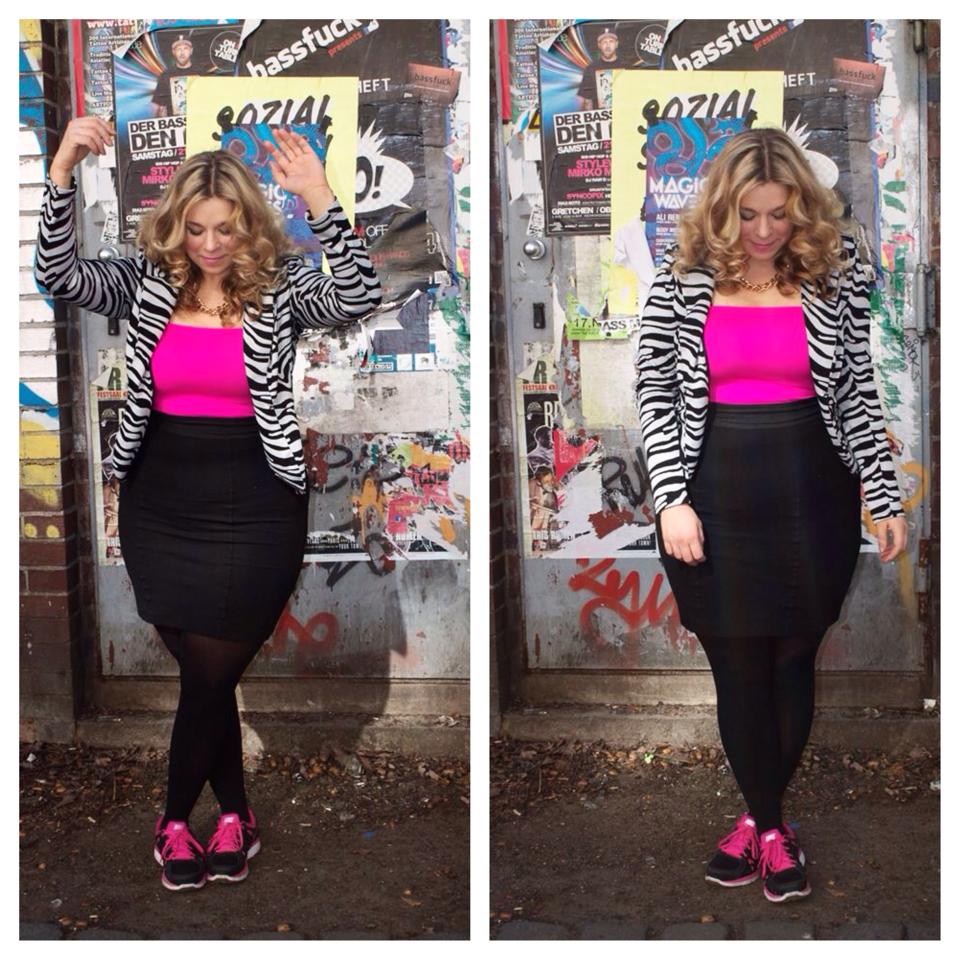 In der letzten Variante habe ich einen Vintage Blazer in schwarz an, der aus eher festem Material gearbeitet ist; die Schuhe habe ich gewechselt.
Diese schwarzen Lack-Peeptoes sind ein absoluter Traum.
Ich hoffe, meine kleine Style-Challenge hat euch gefallen!
Die Fotos hat Geraldine Arnold gemacht. Vielen Dank meine Liebe!!!
Entwickelt ihr auch gerne aus euren Basic-Teilen neue Looks?
xx Caterina
Outfit details:
Skirt: H&M (old)
Top: Kidneykarren (old)
Look 1
Blazer: Musswessels (old) similiar (here)
Shoes: Nike (old) similiar (here)
Look 2
Blazer: Vila (old)
Look 3
Blazer: Vintage
Shoes: Buffalo (old) similiar ( here )
Für noch mehr Bilder und Dinge, die mich inspirieren, folgt mir einfach auf  Facebook ,tumblr,Instagram& Pinterest.
Style Challenge Neon Pink
Sometimes I love to build different looks out of individual basic parts.
Here we have a simple H & M stretch skirt, that has already lost a bit of its shape .
It's probably time for some new Basic rock . : = )
In addition to this I wear one of the tubes of "Kidneykarren". 
I have already reported on Multitops in a previous article of mine .
I wear this with a heavy gold necklace.
I have constructed three variations on this basis.
If I'm honest , the grey combination is the easiest .
Pink and gray fit very nicely together.
The Grey creates a good balance to the neon pink.
This gorgeous blazer is from the Hamburg label "Musswessels ".
You have to be careful using pinstripes , they can act quickly in stuffy way.
But in combination with the neon pink it actually reveals the exact opposite.
The adjective casual fits much better as a description then stuffy.
I finish everything off with opaque tights and sneakers , also in pink .
In the second variation, I wear a blazer made ​​in soft stretch material with a zebra print.
In the last version I'm wearing a vintage blazer in black ,
which is made ​​in a more resistant material; I changed the shoes .
These black patent-peep-toes are an absolute dream.
I hope you liked my little Style Challenge!
Thank you so much Geraldine Arnold  for the Shooting!!
Do you like to develop new looks out of individual basic parts too ?
xx Caterina 
And for more pics and updates, follow me on Facebook,tumblr, Instagram & Pinterest.