Plus Size: Style-Challenge Mini-Skirt
(english below)
Manchmal liebe ich es, aus einigen Basic-Teilen verschiedene Looks zu bauen.
Ganz besonderen Spaß macht mir das mit meiner kreativen Freundin Geraldine Arnold.

So ein Shootingtag ist dann immer sehr inspirierend und ich gehe voller neuer Ideen für meinen Blog nach Hause.

Hier haben wir nun einen Minirock von Cos, der Dank des Neoprenstoffes schön fest ist und von alleine etwas absteht. 
Dazu trage ich eine ärmellose Bluse aus der Kollektion von 
Edith Dohmen, die ein bisschen Vintage anmutet, was ich sehr mag.
Dazu trage ich schlichte rote Leder Pumps, einen Vintage Ledergürtel und eine schwere Goldkette.
Das ist die Basis, auf der die drei Variationen aufgebaut ist.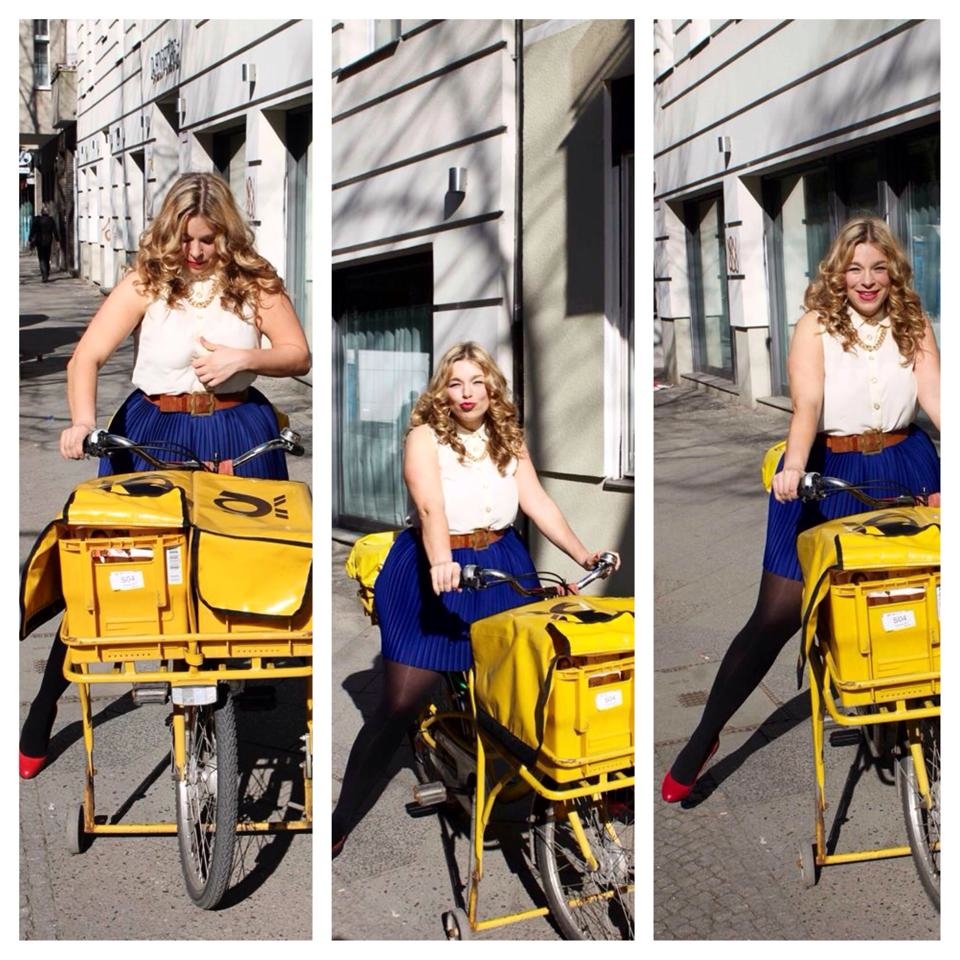 Bei Variante  1
trage ich eine Kurzjacke aus plüschigem Animalprint zusammen mit einem Seidenblumen-Strohhut. Ich mag es sehr, dass die Töne der Jacke das Blau des Rockes noch verstärken.
Bei  Variante 2
habe ich eine alte Levisjacke an. Die Flicken an den Ellenbogen spielen so schön mit dem Rot der Schuhe. Ich liebe Kombinationen in rot/blau aber sowieso.
Bei Variante 3 
habe ich einen Blazer vom Hamburger Label Musswessels an und einen schwarzen Hut.
Ihr wisst ja mittlerweile, wie sehr ich Blazer liebe. Da ich kein Problem damit habe, Blazer und Jacken zu tragen, die mir eigentlich zu klein sind, kann ich auch Blazer von vielen Designerlabels kaufen, die es meist nur in kleineren Konfektionsgrößen gibt.
Bei Variante 4
trage ich einen Vintage Regentrenchcoat aus glänzendem Material.
Ich hoffe, meine kleine Style-Challenge hat euch gefallen!
Entwickelt ihr auch gerne aus euren Basic-Teilen neue Looks?
xx Caterina
Outfit details:
Blouse: Edith Dohmen collection (old)
Skirt: Cos (old)
Shoes:Gört17 (old) similiar (here)
Variante 1: Vintage
Variante 2: Jeansjacke (old) similiar (here)
Varinate 3: Blazer musswessels (old)
variante 4 :Marina Marinaldi (old) similiar (here)
Für noch mehr Bilder und Dinge, die mich inspirieren, folgt mir einfach auf  Facebook ,tumblr,Instagram& Pinterest.
Style-Challenge  Mini-Skirt
Sometimes I love to build different looks out of individual basic parts.
Especially funny with my creative awesome friend Geraldine Arnold.
A day of shooting then is always very inspiring and I'm full of new ideas for my blog back home.
Here we have a mini skirt from Cos, which is a really nice one. Thanks to the neoprene material it sticks out slightly. I do wear a sleeveless blouse from the collection of Edith Domes, which seems a bit vintage, a fact I like. I do wear simple red leather pumps, a vintage leather belt and a heavy gold chain.I have constructed three variations on this basis.
variation 1 
I wear a short fake fur jacket in plushy animal print with a straw hat kissed by a silky flower. 
The colour of the jacket is even highlighting the blue skirt. 
variation 2
I'm wearing an old Levi jacket. You will find the red of the elbow patches in my shoes.
I love combinations in red / blue anyways.
variation 3
I have a blazer from a Hamburg label Musswessels and a black hat. You know by now how much I love blazers. Since I have no problem to wear blazers and jackets that are really too small to me, I can buy blazer from any designer, doesn't matter if they do plussize.
variation 4
I'm wearing a vintage rainy trenchcoat of shiny material.
I hope you liked my little style challenge!
Are you also developing new looks around basic items?
Thank you so much Geraldine Arnold  for the shooting!!
xx Caterina 
And for more pics and updates, follow me on Facebook,tumblr, Instagram & Pinterest.