TREND 2014 KNALLFARBEN/statement colors
(english below)
Ich liebe wirklich den Herbst, vielleicht weil ich ein Herbstkind bin.
Ein weiterer Trend für den Herbst ist es, mit Statement-Farben seine Outfits zu ergänzen.
Für mich strahlen  diese sogennanten  Statement-Farben gute Laune und Selbstbewusstsein aus! Ich finde, nichts wirkt dem tristen Stadtbild besser entgegen, als Kleidung in starken Farben!
Ich habe hier die Farben gelb und blau etwas vorsichtig mit einer schwarzen Skinny-Jeans und nudefarbenden  Schuhen kombiniert.
Der Blazer mit schwarz-weißen Streifen hebt die Farben noch stärker hervor.
Wenn ich Hosen trage, habe ich immer gerne ein Oberteil, das über den Po geht.
Dieses Hemd stammt zwar aus dem Sommer, aber ich werde es trotzdem mit in den Herbst nehmen.
Am Armausschnitt sind kleine Metallketten angebracht.
Die Tasche stammt von Ecco und ich möchte euch verraten,  dass das verarbeitete Leder das gleiche Leder ist, das auch Prada für seine Taschen-Kreationen verwendet. Das merkt man wirklich an der Verarbeitung und an dem wunderbar weichen Material.
Also meine Lieben, ich finde es lohnt sich, mit den knalligen Farben zu arbeiten. Ob ihr nun nur einen Akzent setzen oder sogar monochrom im Outfit werden wollt, es lohnt sich, diesen Herbst ein Statement zu setzen.
Viel Spaß mit meiner Fotostrecke und nutzt die warmen herbstlichen Tage!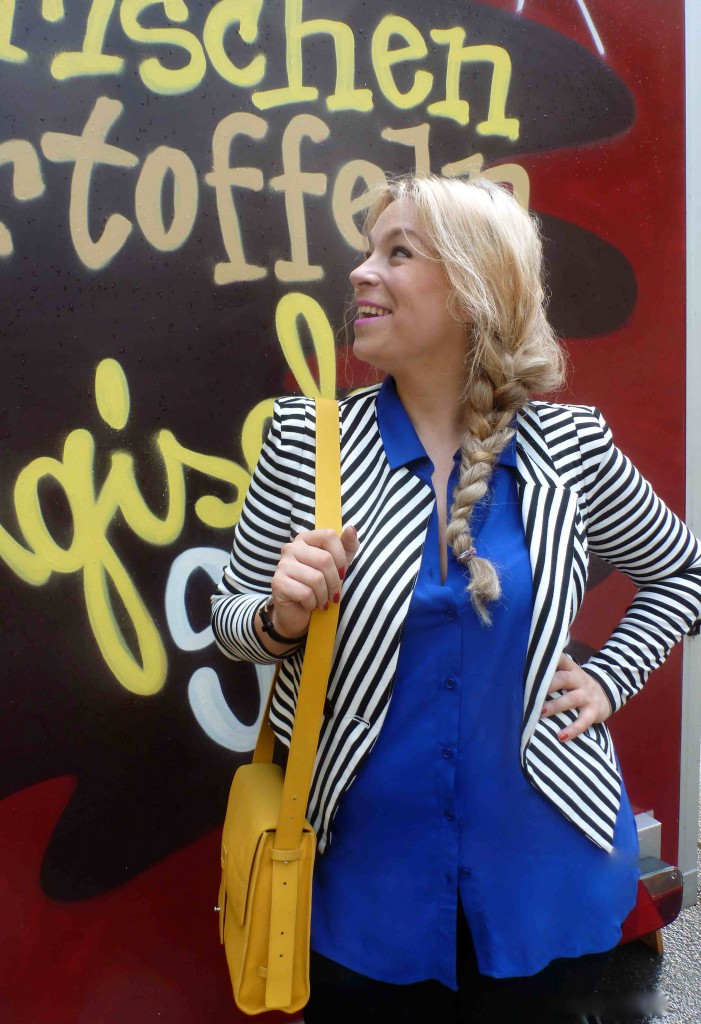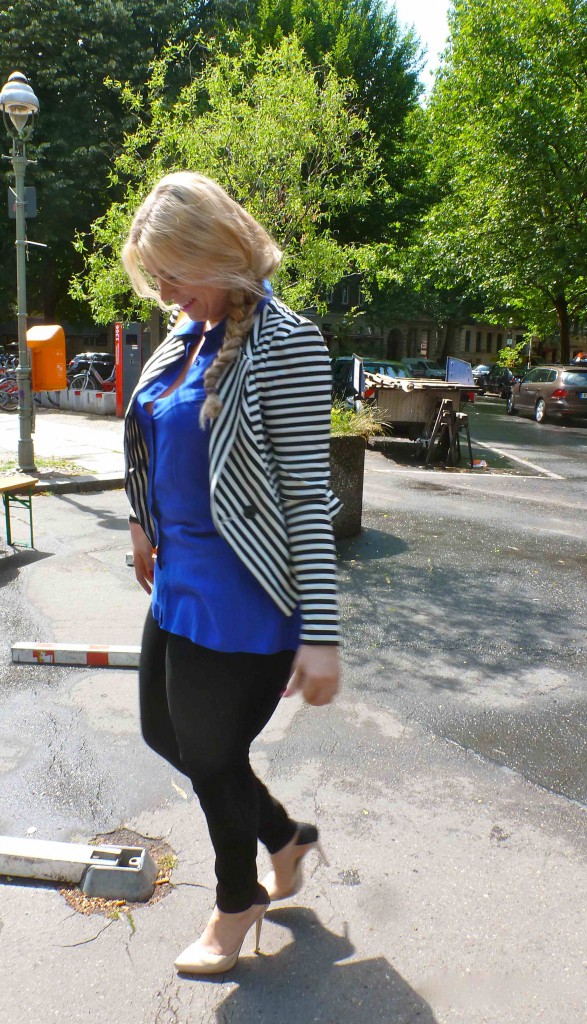 xx Caterina
Outfit details:
Jeans: Forever 21 plus (old)
Blouse: Forever 21 plus (old)
Blazer: Forever 21 Plus (old)
Shoes : (old)
Bag : Ecco
Clock : Bering
Für noch mehr Bilder und Dinge, die mich inspirieren, folgt mir einfach auf  Facebook ,tumblr,Instagram& Pinterest.
TREND Statement  COLORS 2014
I really love the fall, maybe because I'm a child who was born in autumn.
Another trend for the fall is to complete outfits with statement colors.
For me, these so called statement colors radiate good feelings and self-confidence!
I think nothing counters the image of a gloomy city better than clothes with strong colors!
I have combined yellow and blue colors in a somewhat careful way with a black skinny jeans and nude colored shoes.
The blazer with black and white stripes highlights the colors even more.
When I wear pants, I always like a top that covers my booty.
Although this a summer shirt, I still like to wear it in the fall.
Small metal chains are attached to the armholes.
The bag is from Eco and, I would like to share with you that the leather that Ecco uses for its bag is the same leather that Prada use for it's creations.
This is really noticeable in the processing and in the wonderfully soft material.
So my dears, I feel it's worth it, to work with bright colors.
Whether it's just to just put an accent or even if you want to go for a monochrome outfit, it is worthwhile to make a statement this fall.
Have fun with my photos and take advantage of these warm autumn days !
xx Caterina
And for more pics and updates, follow me on Facebook,tumblr, Instagram & Pinterest.