(english below)
Vielleicht habt Ihr auch schon etwas von der neuen Kollektion der atemberaubenden Tanesha Awasthi gehört?
Ich denke, jeder kennt ihren Blog "Girl with Curves"; richtig?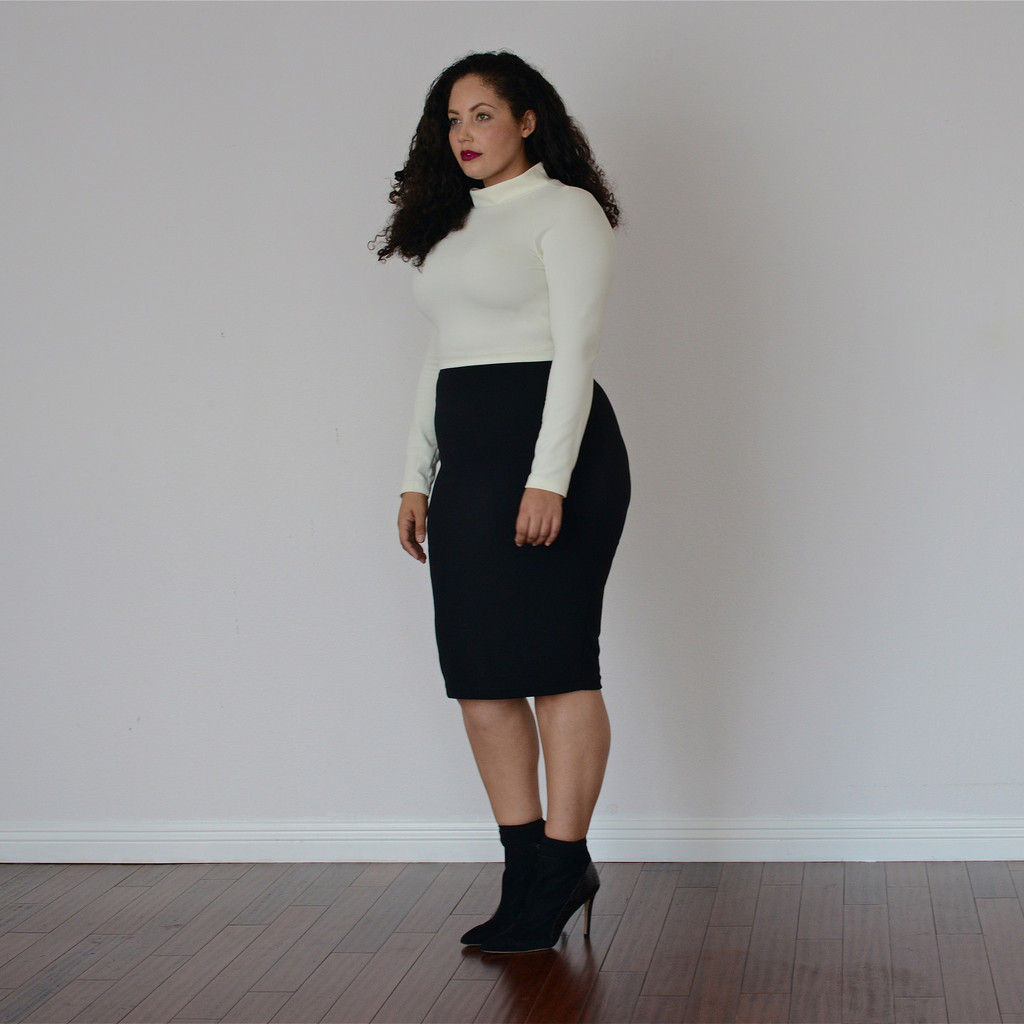 Sie ist so klassisch und edel und eine Styling-Inspiration für mich schon seit einer sehr langen Zeit! Sie war für mich eine der Ersten, die deutlich machte, dass ein guter Style keine Frage der Kleidergröße ist!
Mir gefällt die neue Kollektion von "Girl With Curves" wirklich außerordentlich.
Deshalb habe ich das fall/holiday-Look-Book von ihr für euch hochgeladen!
Also hier ist nun die neue Fashion-Season von der entzückenden Tanesha Awasthi zu finden.
Tanesha schuf diese schöne Herbst- und Holiday-Kollektion.
Ihre Herbstkollektion 2014:
Sie beinhaltet den klassischen Schick mit Basic-Teilen, wie einen Bleistiftrock, eine Schößchen-Jacke, Röcke und Kleider mit interessanten Schnitten in Schwarz und Weiß.
Ich möchte gerne eine dieser Schößchen-Jacken erstehen, aber ich kann mich vorerst noch nicht auf eine Farbe festlegen.
Ihre "Holiday-Kollektion" ist auch sehr schön.
Hier finden wir glamouröse Teile aus glänzenden Materialien in der klassischen Farbe schwarz. Dieser lange schwarze Rock ist mein Lieblingsstück aus der "Holiday-Kollektion"!
Ich werde wahrscheinlich ein oder zwei Teile davon kaufen und, wie immer, versuchen, es mit meiner Garderobe zu kombinieren.
Ich halte euch auf auf dem Laufenden und werde davon bestimmt mal einen Outfit-Post machen .
Ich bin sehr interessiert, zu erfahren, welches Teil von Tanesha euch am besten gefällt.
Hier der Link zu Ihrem Shop:http://shopgirlwithcurves.com/
xx
Caterina
Für noch mehr Bilder und Dinge, die mich inspirieren, folgt mir einfach auf  Facebook ,tumblr,Instagram& Pinterest.
Girl with curve Fall Loobook 2014
Maybe you've heard about the new collection from this stunning lady called Tanesha Awasthi ?
I think everybody knows her blog: 'Girl with curves'; right?
She is so classy and has been a styling inspiration to me, since a very long time!
I absolutely adore the new collection from Girl With Curves!!! 
Therefore I already have the Autumn/Winter lookbook from her lined up for you! 
Now I would like to introduce to you the new fashion season from the adorable Tanesha Awasthi, 2014 Fall Collection.
Tanesha created this beautiful Fall and Holiday Collection.
It contains classic chic with basics like a basic pencil skirt and peplum jackets  and skirts with interesting fits in black and white.
I want this peplum jackets but I can't decide on the color.
Her Holiday Collection is also pretty amazing. You can find glamorous shine items in black. 
This long black skirt is my favorite piece.
For more information, just take a look at the full lookbook below.
I will probably buy an item and try to blend it in with my personal style.
 I'll keep you posted on that.
I'd be very interested to know what your favorite items are.
Let me know in the comments section below !
You can check out the rest here.
http://shopgirlwithcurves.com/
xx
Caterina 
And for more pics and updates, follow me on Facebook,tumblr, Instagram & Pinterest.