Plus Size Outfit: Snow White
(english below)
Ich war sofort bis über beide Ohren in diesen Mantel mit Kapuze verliebt. Ich trage nicht so gerne Mütze. Daher bin ich also immer auf der Suche nach Alternativen. Wenn ich diesen Mantel trage, fühle ich mich wie im Märchen.
Ich weiß jetzt, dass ich noch viel Freude an ihm haben werde.
In einer Fachzeitung für Mode las ich über den neuen Trend, wieder die Taille zu betonen. Es war sehr schön formuliert mit: "Mitte, bitte". Der Gürtel und die Betonung der Mitte wird in dieser Saison ein fulminantes Comeback erleben. Wer von euch eine Taille hat oder sich eine zaubern möchte, betont seine Taille mit einem schönen Gürtel über einem der Statement Coats.
Der hier gezeigte Mantel von Yoek aus Faux-Persianer Webpelz mit der herrlich kuscheligen Kapuze ist diesen Winter aktuell mein absoluter Liebling.
Wer wie ich seine Kurven betonen möchte, kann mit einem Gürtel seine Kurven wunderbar zur Geltung bringen. Außerdem erinnert er mich an den "Natürlichen Folklore Trend".
Die Hose kennt ihr schon aus meinem Outfit Post "schwarz, rot, gold, mal anders".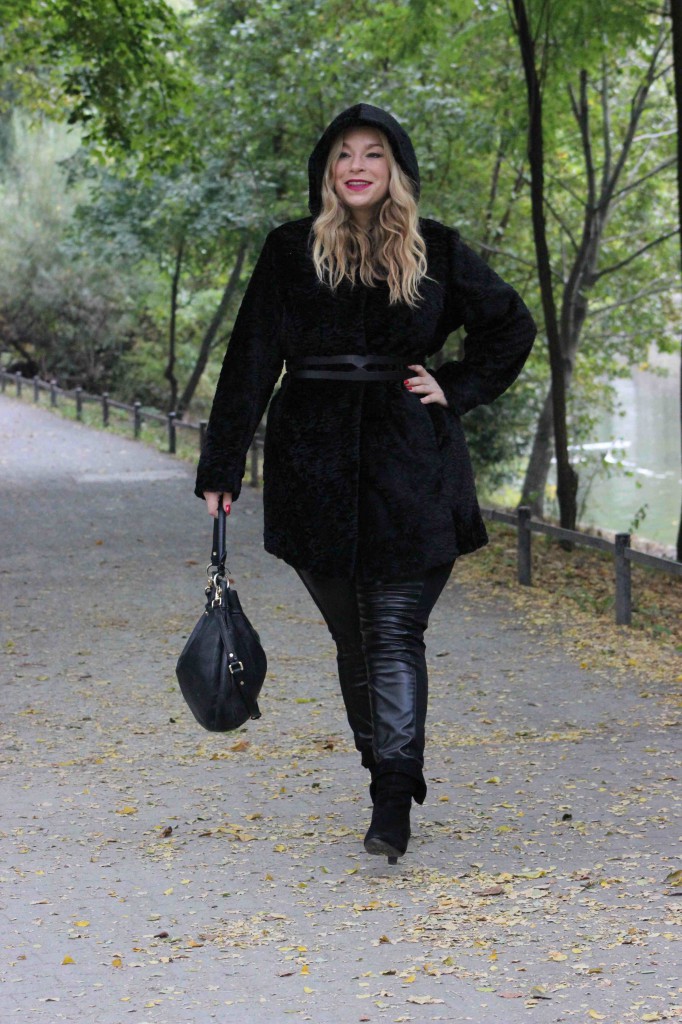 xx Caterina
Für noch mehr Bilder und Dinge, die mich inspieren, folgt mir einfach auf Facebook,tumblr, Instagram & Pinterest.
outfit detail:
Belt: Prada (old)
Shoes: (old) nice one
Bag: Marc jacobs (old)
Pu pants: Junarose
Coat: (Atelier Blanche)  Yoek *

* This product were provided to me free of charge!
* Das Produkt wurde mir unentgeltlich zur Verfügung gestellt!


Snow White
It was love at first sight. I was head over heels for this lovely hooded coat.
I don't really care for hats, which is why I am always on the lookout for good alternatives.
And this coat makes me feel like I'm in a fairy tale. I can already tell that I will enjoy wearing it for a long time to come.
According to a fashion magazine I recently read, there is this new trend, which really isn't that new at all. Fashion is turning its attention back to the midsection, but in the best possible way. I loved the way it said: "Waistline? Yes, please!" Using belts to cinch the middle and accentuate the waist will definitely make its glorious comeback. So if you want to draw the eye to your great waistline, or create the illusion of one, then you can show off that waist with the simple help of a nice belt on top of a stunning coat.
This coat by Yoek, made from imitation astrakhan, and with its gloriously comfy hood, is my absolute favourite this winter. Plus, it reminds me a lot of the folk style (Folklore-Trend) I wrote about last autumn. And lastly, you may recognise the pair of trousers from my post 'schwarz, rot, gold mal anders' (black, red, gold different).
So if you feel like emphasising your curves in the best possible way, then don't hesitate to grab a belt, wind it 'round your middle just above the waistline, and show off that hourglass figure!
xx Caterina
And for more pics and updates, follow me on Facebook, Instagram & Pinterest.