Paris is always a good idea.
(english below)
Meine Freundin Sophie meinte letztens, als sie mich gesehen hatte: "Das könnte jetzt irgendwie Paris vom Style her sein …..!"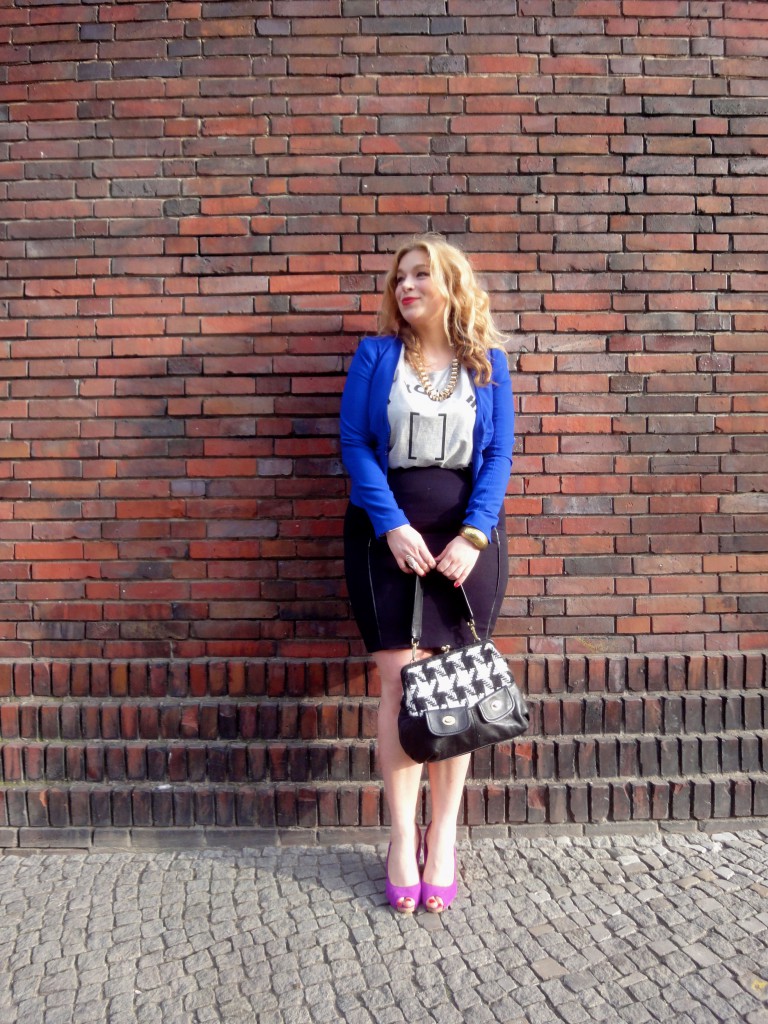 Das hat mich sehr gefreut,  nicht in dem Sinne, dass ich mir nun nicht  einbilde "parisienne" zu sein, aber dass mich meine kurze Reise stylingtechnisch inspiriert hat, das freut mich schon sehr!
Das ist ja immer meine große Hoffnung, durch neue Einflüsse neue Ideen zu haben.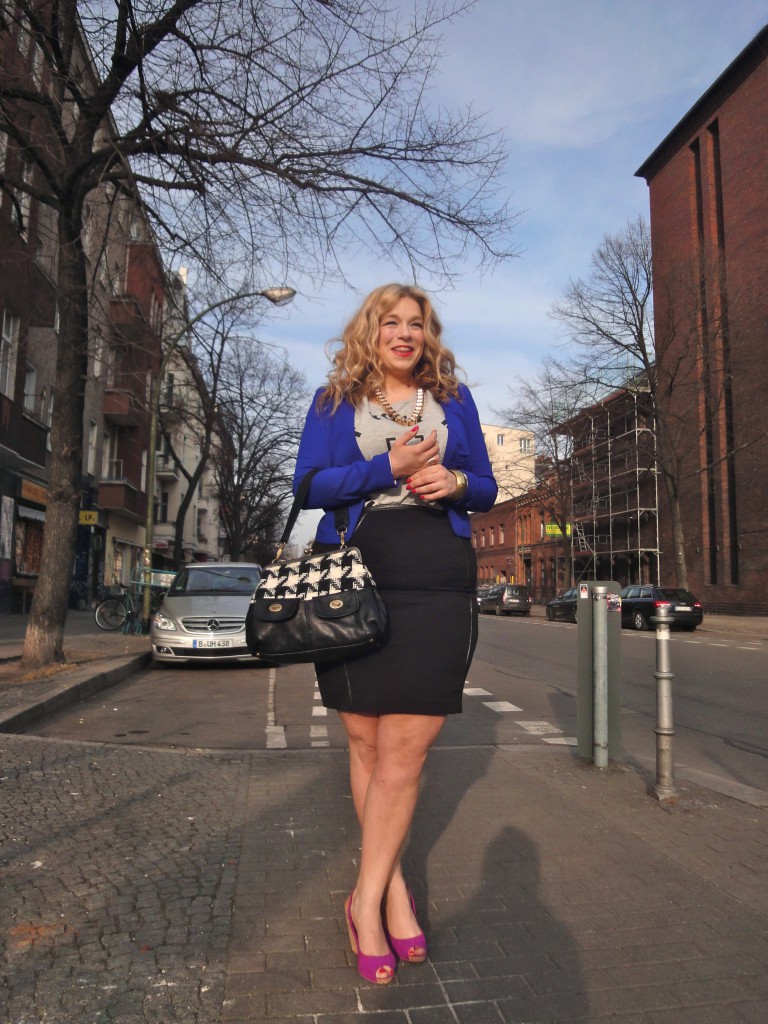 Fangen wir an bei dem Rock. Schlicht mit 2 Ziernähten aus Kunstleder vorne. Das Sweatshirt ist aus richtigem T­-Shirt­-Stoff und mit einem Print, der aber nicht zu sehr dominiert.
Starker Goldschmuck mit Statementkette und meinem Schmuck aus Indien ergänzen das Outfit.
Meine Schuhe sind im knalligen lila gehalten und dank Keilabsatz trotz 14 cm Höhe sehr bequem! Meine Tasche ist von Miu Miu und war eigentlich ein Fehlkauf. Ich dachte, dass sie größer ist. Richtig gestylt, wie zu diesem Outfit, mag ich sie aber doch gern.
Werdet ihr auch gerne auf  euren Reisen modetechnisch angeregt?
Nadine cherie merci beaucoup für alles in Paris !! Hörst du unser Lied:)?
xx Caterina
Outfit details:
Skirt: H&M (old) similiar (here)
Bag: MiuMiu (old)
Shoes: H&M (old)
Shirt: Junarose (old)
Blazer:H&M (old) similar (color )
Für noch mehr Bilder und Dinge, die mich inspirieren, folgt mir einfach auf  Facebook ,tumblr,Instagram& Pinterest.

Paris is always a good idea.
My friend Sophie said recently, as she had seen me: "Well, styling wise this could somehow be Paris ….!" I have been very pleased, not because I could consider myself "parisienne" now, but because my short trip to Paris might have inspired my way of styling. This thought pleases me a lot! That's always my great hope, receiving new ideas through new influences.
Let's start with the skirt. It is  plain with 2 leather trims at the front. The shirt is made from regular jersey fabric and has got a print which is fortunately not too dominant.
Heavy gold jewelry containing a statement necklace and my jewelry from India are completing the outfit.
My shoes are kept in a bright purple and thanks to the wedged heel they are very comfortable despite the height of 14 cm.
My bag is from Miu Miu and was actually a mispurchase. I expected it to be much larger. But well styled with this outfit I kind of like it anyway.
xx Caterina 
And for more pics and updates, follow me on Facebook,tumblr, Instagram & Pinterest.