Amsterdam my Love
(english below)
Neulich war ich in Amsterdam mit diesem Mantel an einer der vielen wundervollen Grachten spazieren. Mit meiner niederländischen Freundin Renske, die ich nun schon über 10 Jahre kenne. Wir  haben in gemeinsamen Erinnerungen geschwelgt.
Meine ersten unbeholfenen niederländischen Sätze, zusammen verbrachte Geburtstage und die obligatorischen für Amsterdam typischen nächtlichen Fahrradtouren auf den "fiets" (Niederländisch für Fahrrad) mit minimal 2 Menschen pro Fahrrad.
Amsterdam ist meine Perle der Erinnerungen. Ich hab dort gelebt, geliebt, studiert und gearbeitet. Amsterdam ist eine meiner Lieblingsstädte.
Auf den Strassen von Amsterdam habe ich das erste Mal ein Kleidungsstück mit einem sogenannten Farbverlauf gesehen. Schon im letzten Jahr haben wir diesen Trend des Farbverlaufes auf den Laufstegen sehen können.
Dieser Statement-Coat von Evelin Brandt besticht durch seinen schönen Farbverlauf von dunkleren Tönen am Saum zu helleren Tönen am Kragen.
Dieser Schöne Mantel aus Wollmischgewebe mit kontrastierendem Farbverlauf zeigt, wie schön dieser Trend sein kann und vermittelt dabei für mich die Weichheit und Wärme auf eine unangestrengte Art und Weise. Ein Mantel mit Farbverlauf braucht wenig Accessoires, denn er steht für sich.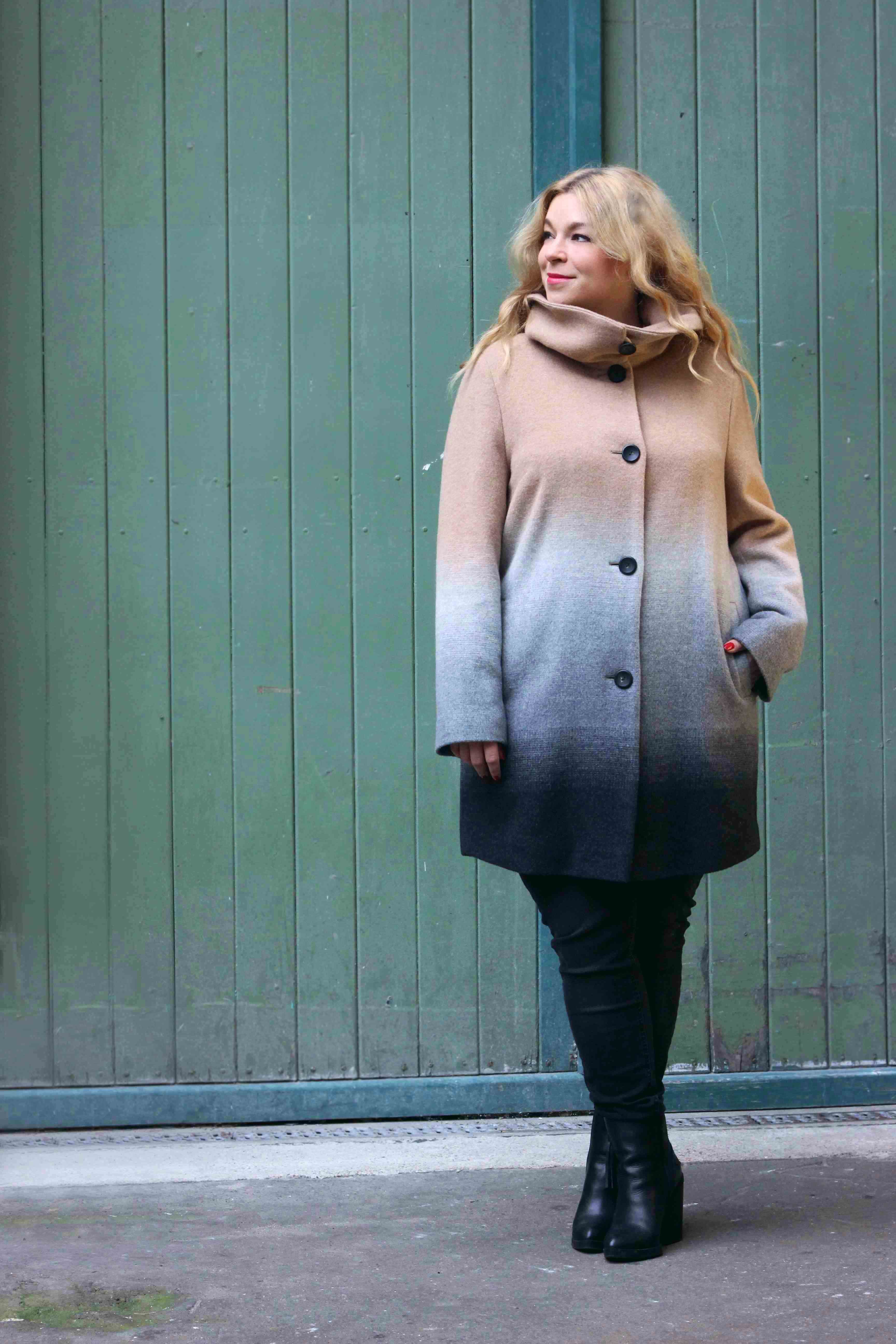 Ich bin ehrlich, ich habe eine Schwäche für hochwertige Dinge.
Diese Tasche passt aber natürlich nicht nur deswegen perfekt zu dem Look, finde ich.
Ich trage dazu eine anthrazitfarbene Jeans von Carmakoma und meine aktuellen Ankle Boots, die zurzeit meine Liebsten sind.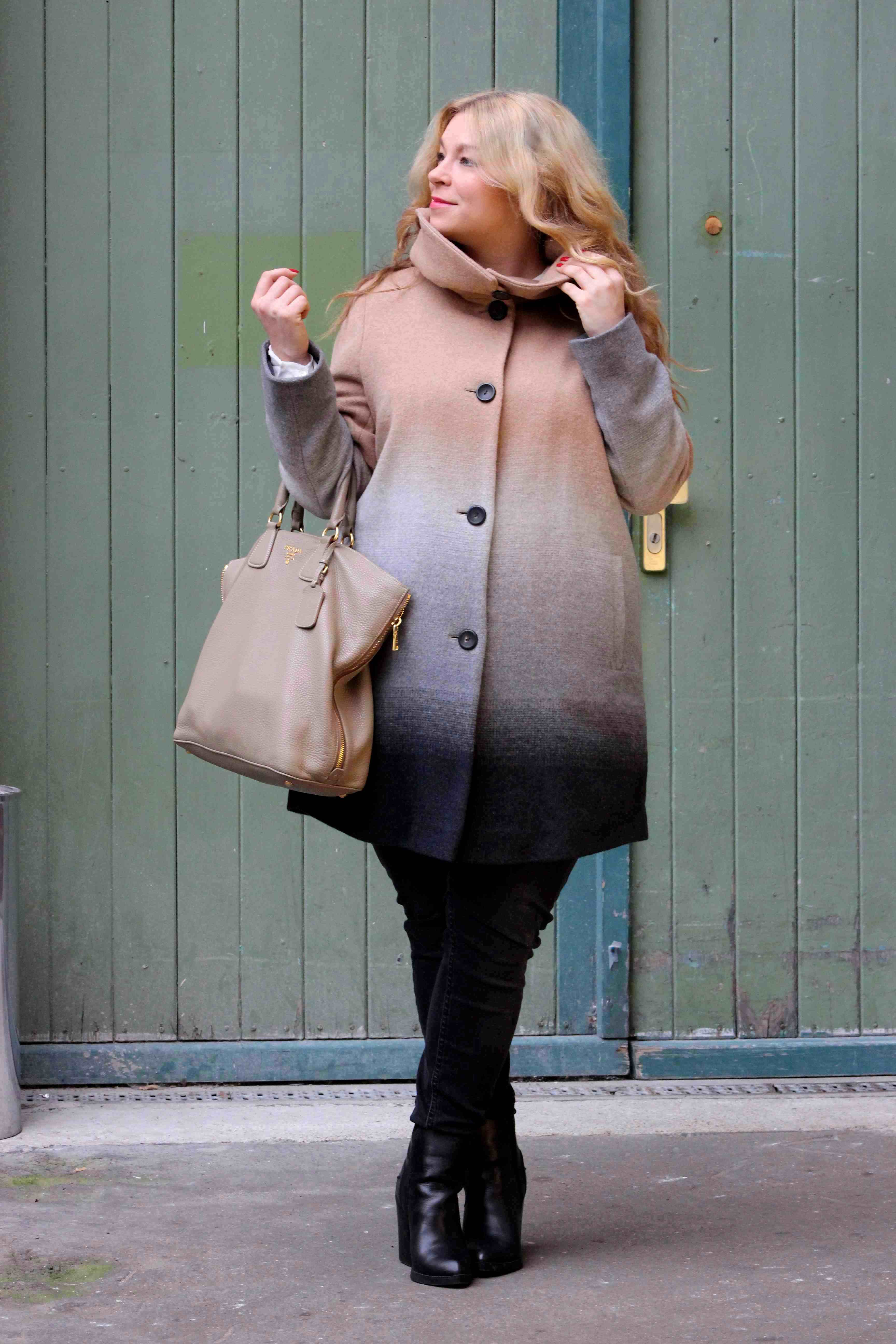 Ich liebe es, ab und zu auf meine Füsse beim Laufen zu schauen und die Bommeln vom Reisverschluss mit schwingen zu sehen .
Habt ihr auch Orte auf der Welt, mit denen ihr viel verbindet?
xx Caterina
Outfit details:
Coat:Evelin Brandt *(by Atelier Blanche)
Pants:Carmakoma*(by Atelier Blanche)
Bag: Prada
Blouse: Carmakoma
Shoes:Invito old  (nice one)

* Das Produkt wurde mir unentgeltlich zur Verfügung gestellt!
* This product were provided to me free of charge!
Amsterdam, my love
The other day I was wearing this coat when I went for a walk along one of Amsterdam's wonderful town canals. I was with my Dutch friend Renske, whom I've known for over 10 years, and we were reminiscing about old times. My first awkward Dutch sentences. Birthdays we celebrated together. And naturally our tours on 'fiets' (Dutch bicycles), so very typical for Amsterdam, where there are always at least two people on one bicycle.
Amsterdam is a gem amongst my memories. It's where I've lived, where I've loved, where I studied and where I worked.
Amsterdam is one of my favourite cities. It was also on the streets of Amsterdam that I first saw a piece of clothing with a graduation of colour, the so-called 'ombre'.
Just last year we were able to follow this trend on the runways of the world. This coat by Evelin Brandt is a real statement piece that captivates by the beautiful graduation of darker colour at the hemline to lighter shades at the collar. The stunning coat, made from a wool blend with contrasting colour graduation, shows how beautiful the ombre trend can be and how it effortlessly emanates a sense of softness and warmth at the same time. A coat with a colour graduation such as this needs hardly any accessories. It speaks for itself.
I'll be honest: I have a true weakness for high-quality items. But obviously that is not the only reason why this bag perfectly completes the look. I'm also wearing charcoal-coloured jeans from Carmakoma and black ankle boots, which are definitely my favourites at the moment. When I walk, I love looking down to my feet from time to time and to see the tassels of the zippers swing with every step.
Do you also have places in the world that you associate with lots of memories?
xx Caterina