Plus Size: City chic
(English below)
Das Wetter in Berlin ist momentan absolut wechselhaft. Mal ist es warm und mal ist der Herbst spürbar. Einerseits liebe ich es, mich jeden Morgen beim Blick aus dem Fenster überraschen zu lassen.
Es gibt aber auch Tage, an denen ich vor dem Kleiderschrank stehe und mir ein Outfit zusammenstelle, um mich selber in eine gute Stimmung zu versetzen.Für diese wechselhaften Tage brauche ich öfter ein Outfit, das mich selber erfreut und vergessen lässt, dass der Sommer bald vorbei ist.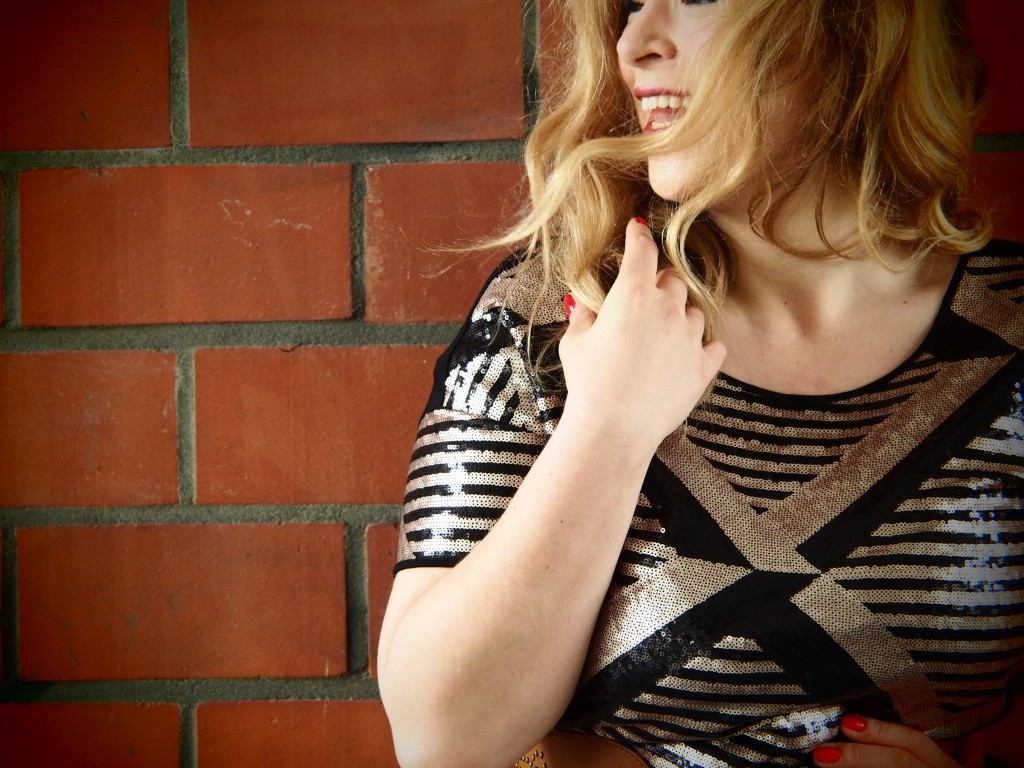 Ich habe es eigentlich nicht so mit Pailletten. Für dieses tolle T-Shirt mache ich aber eine Ausnahme.Den Rock hat mir eine Freundin günstig vermacht, er ist von C & A noch aus einer Zeit, in der noch niemand von Midilängen gesprochen hat.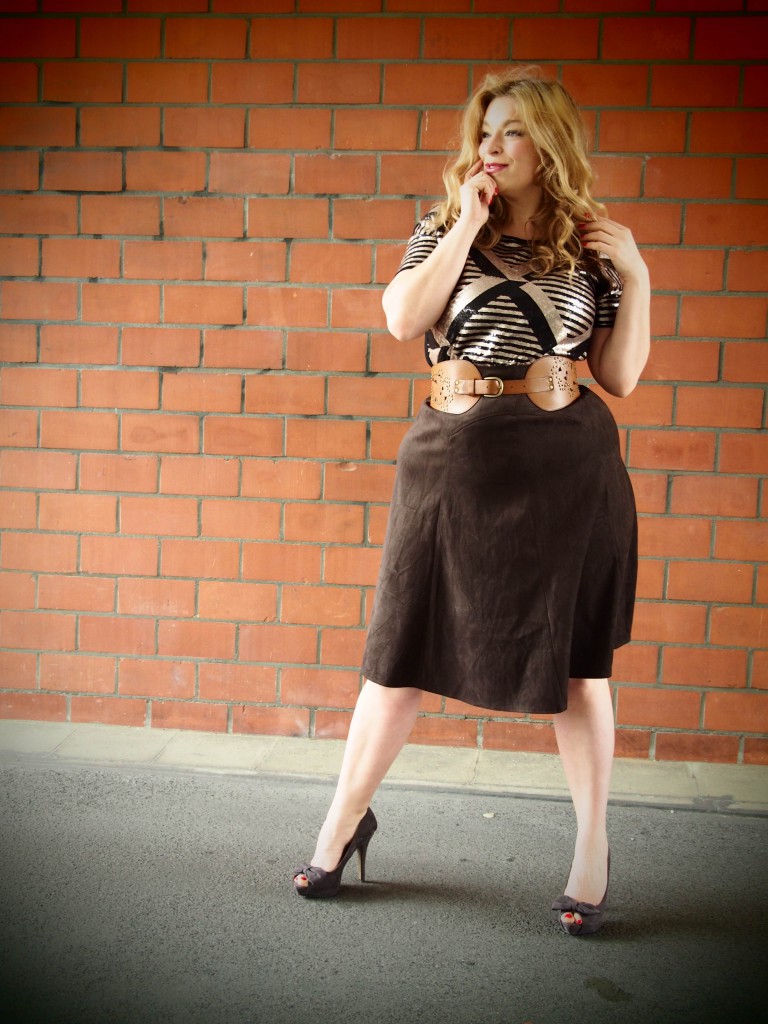 Midi-Röcke stellen die Mitte von allen Rocklängen dar und ich frage mich, wie ich früher ohne sie leben konnte. Ich liebe Midi-Röcke und Kleider schon seit dem letzten Jahr.Midi-Röcke können so viel, sie können lässig, charmant, elegant und auch sexy sein.
Sie waren in vielen Sommer-Kollektionen von 2014 präsent.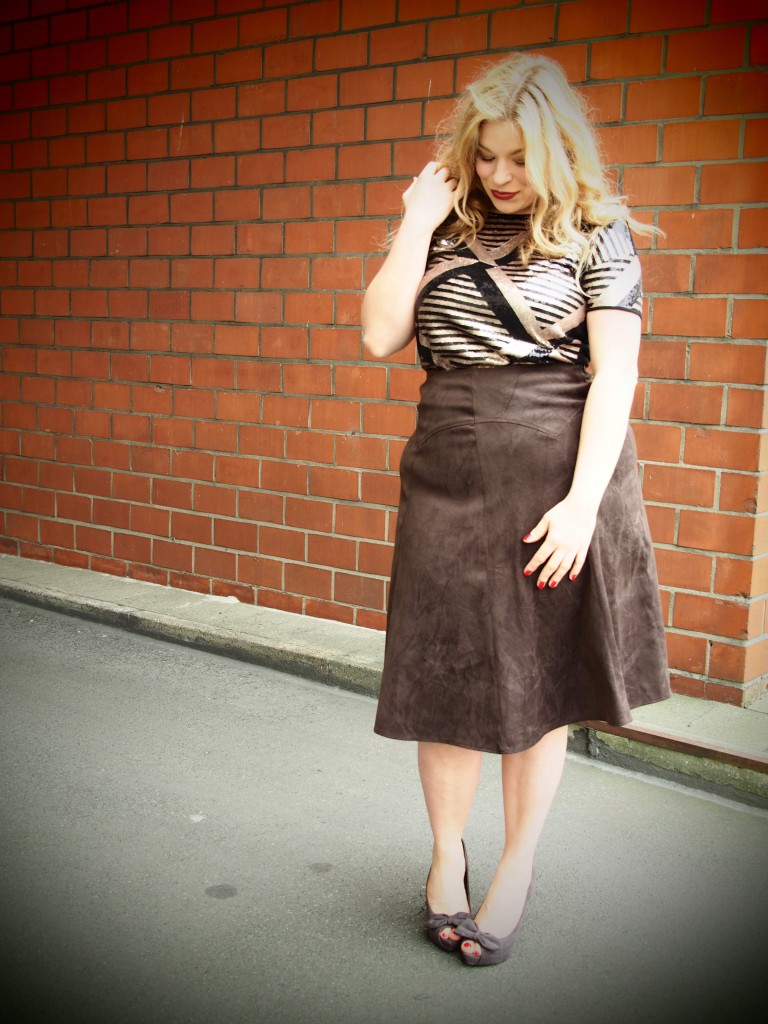 Meine Mutter meinte beim Betrachten
meiner manigfaltigen neuen Midilängen- Garderobe:"Eigentlich wiederholen sich doch alle Modetrends irgendwann, sie werden lediglich anderes interpretiert."
Damit hat Sie natürlich vollkommen recht , was mich aber trotzdem nicht davon abhält
"neue" Trends als solche zu empfinden. Genau das macht mir ja solchen Spaß an Modeströmungen und Trends.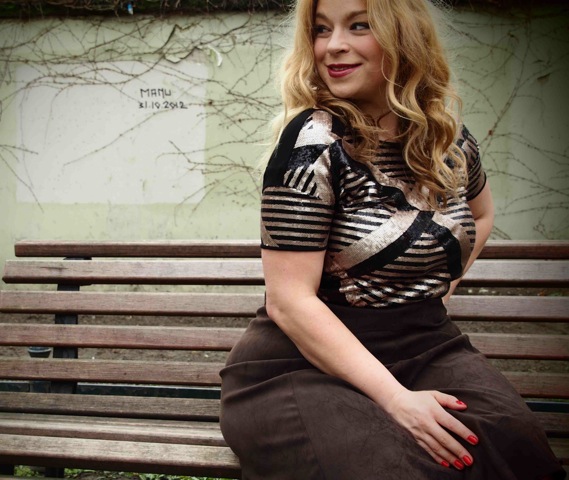 Mir war danach, meine Beine länger erscheinen zu lassen. Diesen Effekt kann man mit dem einfachen Trick erreichen, die Schuhe in der gleichen Farbe wie die jeweilige Beinbekleidung zu wählen.Meine allerliebste Schuhform sind Peeptoes. Die hier abgebildeten haben eine süße Schleife und sind leider nicht mehr im Handel erhältlich.
Ich liebe es außerdem,  Gürtel zu tragen; ich finde das Outfit aber auch ohne Gürtel schön. Darum zeige ich euch beide Varianten.Für den frischen Herbst-Windhauch trage ich eine schwarze kurze Jacke.
Die Fotos hat Marlene Court gemacht.Vielen dank meine liebe !!!
Kennt ihr das auch,  es gibt Tage, an denen euer Outfit euch helfen kann, etwas Glanz in den wechselhaften Alltag zu bringen?
xx Caterina
Outfit details:
Skirt: C&A (old)(similiar) and (similiar)
Shirt:Vero Moda (old)(similiar) and (similiar)
Belt:Hema (old)
shoes: Zara (old)
Jacket: Vila (old)
 I need sparkle

The weather in Berlin is currently so changeable.Sometimes it is warm, and sometimes it feels like autumn. On one hand I love the surprise every morning when I look out the window. But then there are also days when I stand in front of my wardrobe and I put together an outfit to put myself in a good mood.
On such changeable days, I more often need an outfit that makes me happy and forget the fact that the summer is almost over.
Actually, sequins are not really my thing. But I'll make an exception for this great T-shirt.

A friend left me this skirt. It is from C & A from a time when no one spoke of midi lengths. Midi-skirts are the mid-length of all skirt lengths, and I'm wondering how I managed to live without them for such a long time. I have really been into midi-skirts and dresses since last year.
Midi-skirts are so versatile: they can be casual, charming, elegant and sexy.
They were present in many summer collections of 2014.
On inspecting my wardrobe, my mother said, "Actually, at some point, all fashion trends just repeat themselves, they just get interpreted diferrently".
Of course, she is absolutely right, but this still does not stop me from feeling "new" trends as such. This is exactly why I enjoy new fashion trends and tendencies so much.
I find that this length looks best with high heels.This on/below-the-knee length has incredible benefits, as it flatters virtually every figure.My aim was to make my legs look longer. This effect can be achieved with the simple trick of choosing the shoes in the same color as the respective leg wear.

My favourite type of shoe are peep toes. Those pictured here have a charming bow and are unfortunately no longer commercially available.
I also love to wear belts; but you could also get away without wearing one. That's why I'm showing you both variations.Due to the fresh autumn breeze, I'm wearing a short black jacket.
Do you also have those kinds of days where your outfit can help you to bring some sparkle back into the changes of everyday life?
xx
Caterina