(english below)
Meine Lieben,
hier ist mein erster Post als Junarose-Ambassador! Ich freue mich so sehr, Euch endlich mitteilen zu können, dass ich eine der neuen "Friends" von Junarose bin.
Das Schöne daran ist, dass ich ein Jahr lang ein Outfit pro Monat von Junarose zusammenstellen kann, ausgewählt nach meinen Vorlieben, und für Euch posten werde.
Hier heute also mein erster Plus size Look von der Firma für große Größen.
Es wurden noch viele andere inspirierende Blogger ausgewählt aus den verschiedensten Ländern. Meine erste Wahl fiel auf dieses Outfit, bestehend aus den 3 Teilen von Junarose.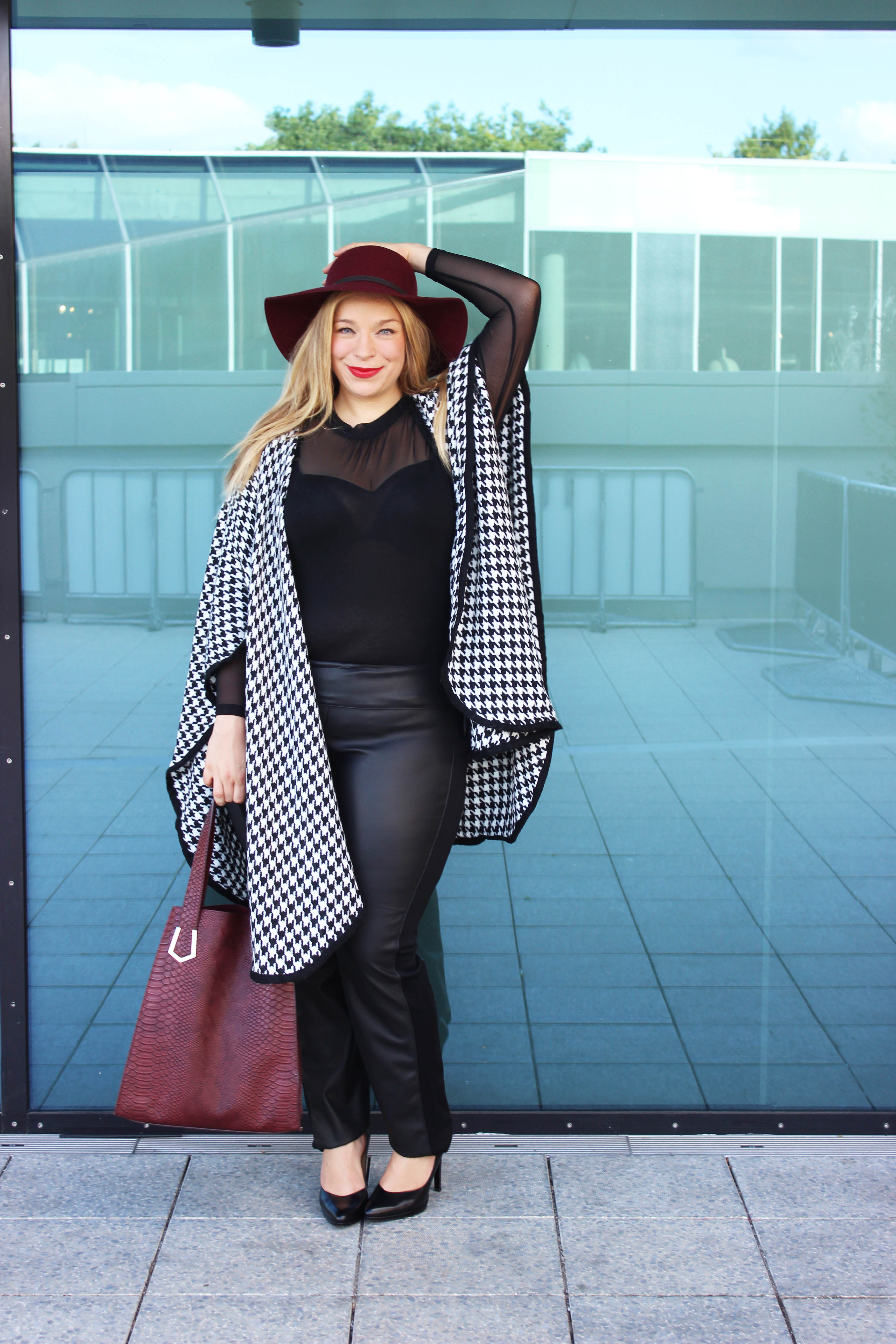 Mein absolutes Must-Have für diesen Monat ist der Materialmix.
Mein Fokus bei diesem Outfit ist dieses Cape. Damit dieses Cape mit Hahnentrittmuster schön zur Geltung kommen kann, habe ich einen komplett schwarzen Look ausgewählt, den ich mit burgundfarbigen Asseccoires als Kontrast kombiniere.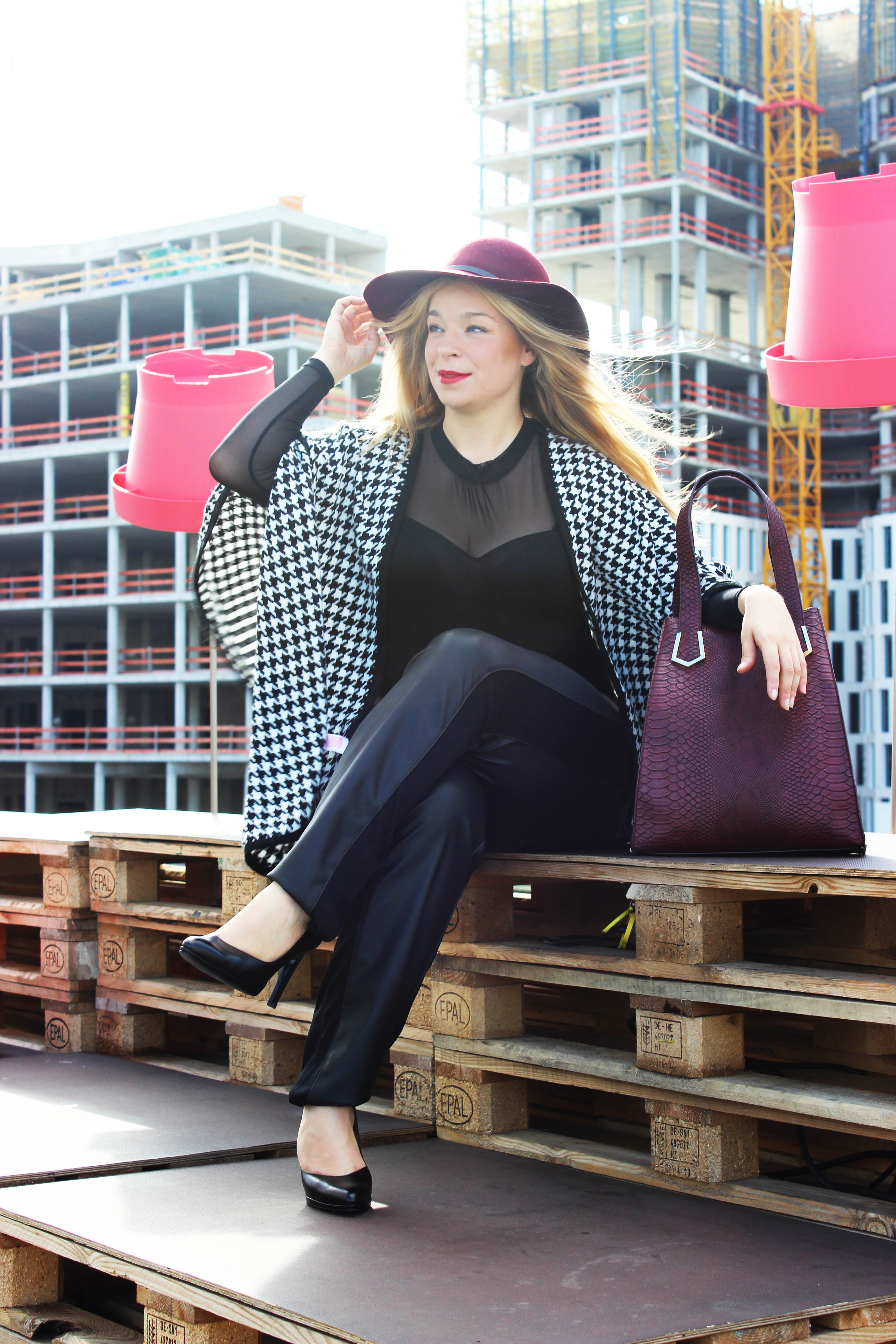 Zudem macht der schwarze Look auf eine subtile Art sehr weiblich und verspielt sexy.
Dieser schwarze Body mit Mesheinsatz ist angesagt und classic. Eine Kunstlederhose mit Cape oder Poncho ist immer super schön für den Herbst. Ich trage dazu einen burgundfarbigen Hut und auf die Lippen habe ich rot aufgetragen. Als Alternative wäre die Farbe burgund auf den Lippen auch sehr schön gewesen.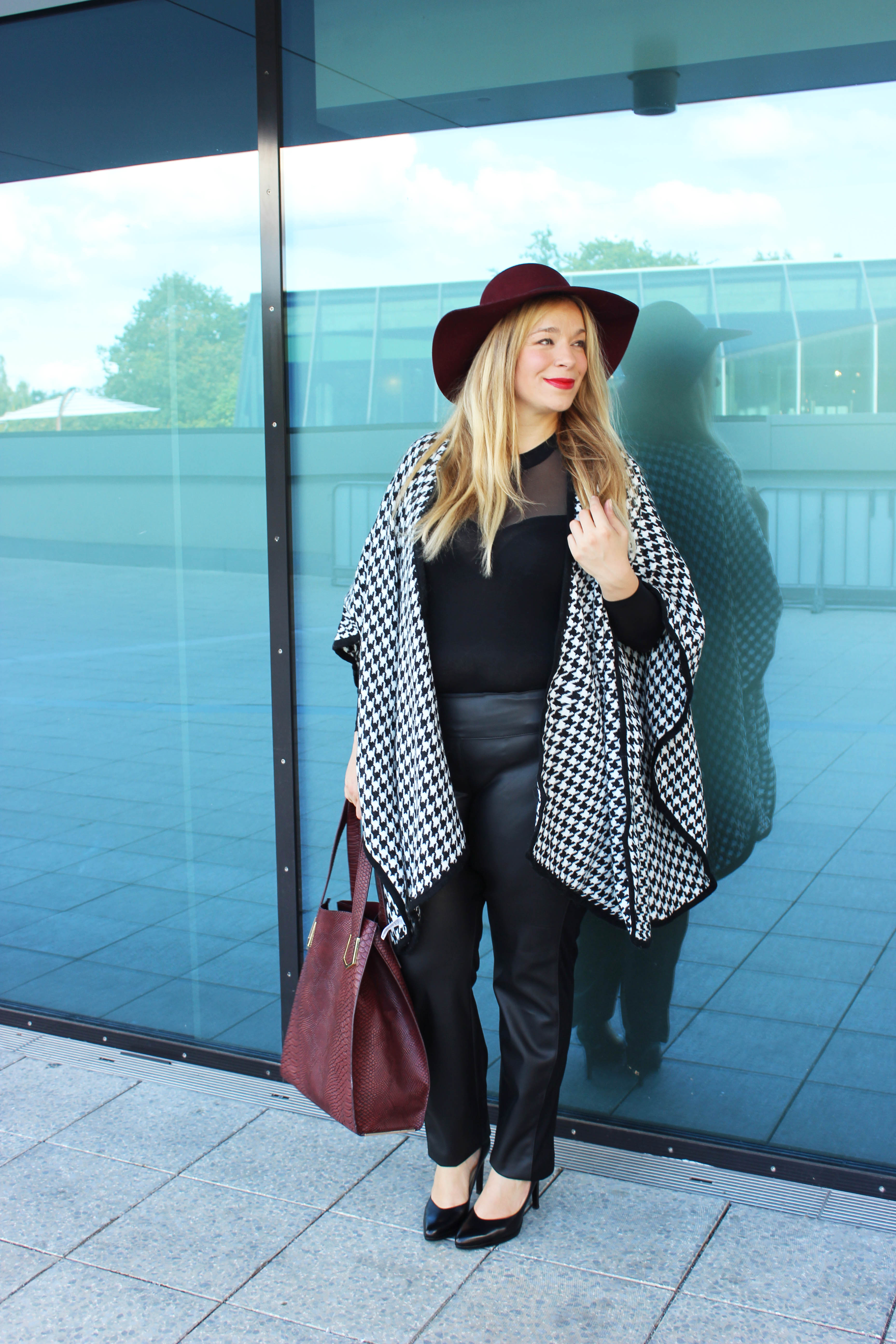 Burgundfarbige Lippen mit Cape sind dandy und der Netzeinsatz am Body ist ein toller Akzent.
Schwarz wird mit dem Burgund aufgelockert und dadurch wird der minimalistische Look etwas mehr zum Lady-Look.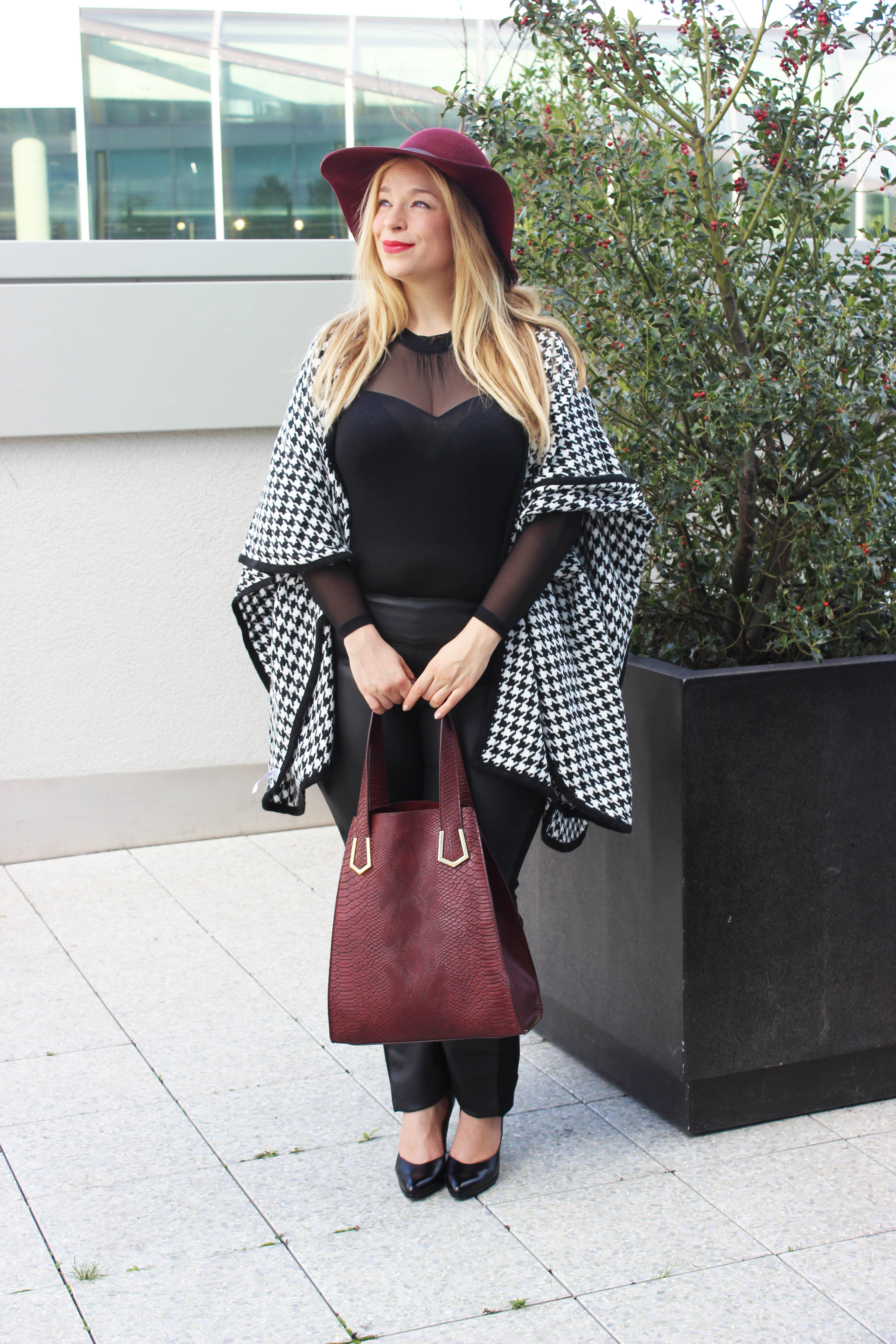 Die wunderschöne Tasche ist von "Neat to", einer ganz bezaubernden jungen Hamburger Firma. In diesem Artikel habe ich schon über diese Firma berichtet.
Sie haben schöne Sachen zu guten Preisen und sind sehr gut geeignet für die Curvys unter Euch.
Ich freu mich jetzt schon auf meinen nächsten Junarose-Post im Oktober. Alle Artikel, die ich auf meinem Blog zeigen werde, habe ich selbst ausgewählt. Für diejenigen, die in den USA leben, kann ich nur empfehlen, auch ein Auge auf Asos oder Navabi zu werfen. Beide bieten Junarose an und liefern in die USA.
Im Anschluss habe ich noch ein Video für euch!
Genießt den Tag meine lieben!
xx Caterina
Outfit Detail
Pants: Junarose* alternative (here)
Body: Junarose* alternative (here)
Cape: Junarose* alternative (here)
Bag: Neatto* similiar (here)
Hat: Pinkie
Shoes: Peter Kaiser

english
Here it is darlings, my first post as JUNAROSE ambassador!
I am excited to announce that I am one of the new JUNAROSE friends which means that I will be posting a complete outfit from JUNAROSE once a month for a whole year.
Many other gorgeous and inspiring bloggers have been chosen to represent by different countries. My absolute Must have for this month is material mixing.
My focus on this outfit is the  cape shown on the picture .  Its material is breezy but also very warm which is perfekt for the autuum.
The cape is printed with the houndstooths. To let it shine its perfect  to combine it with a basic black outfit.  if you want you can pimp it up it with Burgund  assecoires which give an amazing contrast. For example a hat together with Burgund  pumps and Burgund lipstick is my secret advice for you. The minimalistic combination of black and Burgund  is tipical lady like.
Houndstooths  Cape  time!  – style with leather pants and a black Body with mesh.
All decisions upon the items I am showing are my own. For the first month I have chosen thisFor those of you who are living in the US I am recommending to keep an eye on Asos or Navabi. Both are selling JUNAROSE and deliver to the US.
Wish you an amazing Day!
xx Caterina
Podcast: Play in new window | Download