Cozy & casual featuring yours clothing
(english below)
Ich finde es wahnsinnig schön, drinnen im Warmen am Fenster zu sitzen und den Regen zu beobachten. Oder aber warm dick eingepackt im Bett dem Wind zu lauschen, wie dieser durch die Bäume peitscht.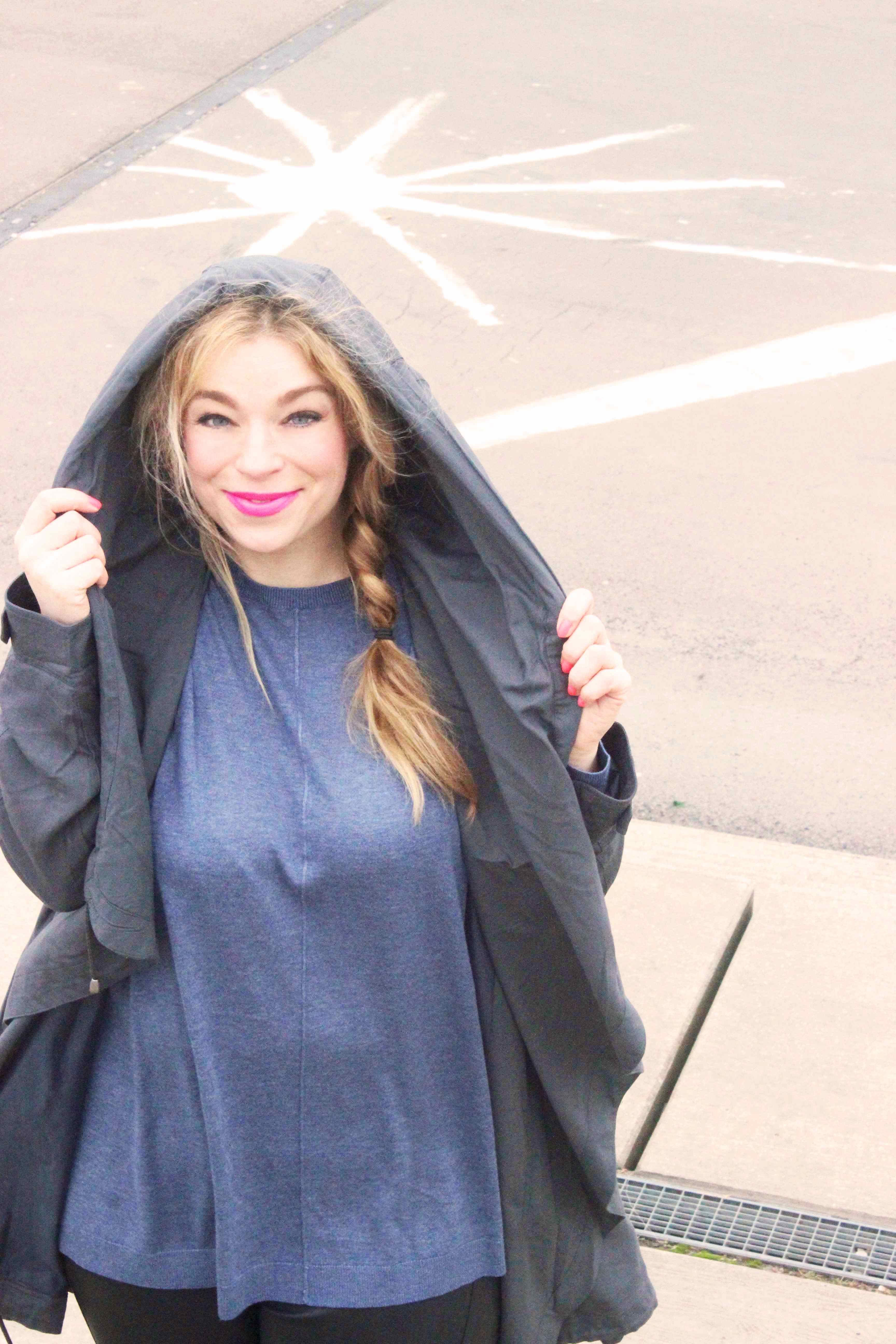 Wenn ich an so einem windigen Tag vor die Tür muss, obwohl ich lieber zuhause bleiben würde, wähle ich oft Materialmixe aus Leder oder Pu-Leder mit Strick, entweder Grob- oder Feinstrick.
Auch in dieser Saison ist eine der interessantesten  Kombis der vergangenen Winter angesagt und wärmt uns auch in diesem Jahr.
Dazu habe ich mir diesen Oversize-Parka mit großer Kapuze ausgesucht.Ich finde es toll, wenn der Wind mit dem Volumen am Kragen und an der Kapuze spielt.
Der Oversize-Pullover ist wunderbar kuschelig weich und aus 80 % Viscose.
Ich erwähne das deswegen, weil ich Polyester bei Oberteilen nicht sonderlich schätze.
Die Pu-Hose sitzt wirklich wunderbar. Das ist bei Pu-Hosen leider nicht immer so.
Mit so einem Wohlfühl-Outfit fühle ich mich bestens gerüstet, um die kommenden 1 bis 2 Monate, wo die nackte Tristesse ohne Blätter und Blumen uns nicht gerade ein Lächeln auf die Lippen zaubert, besser zu überstehen. Passend gekleidet kann ich dem Winter und Frühling sehr viel abgewinnen.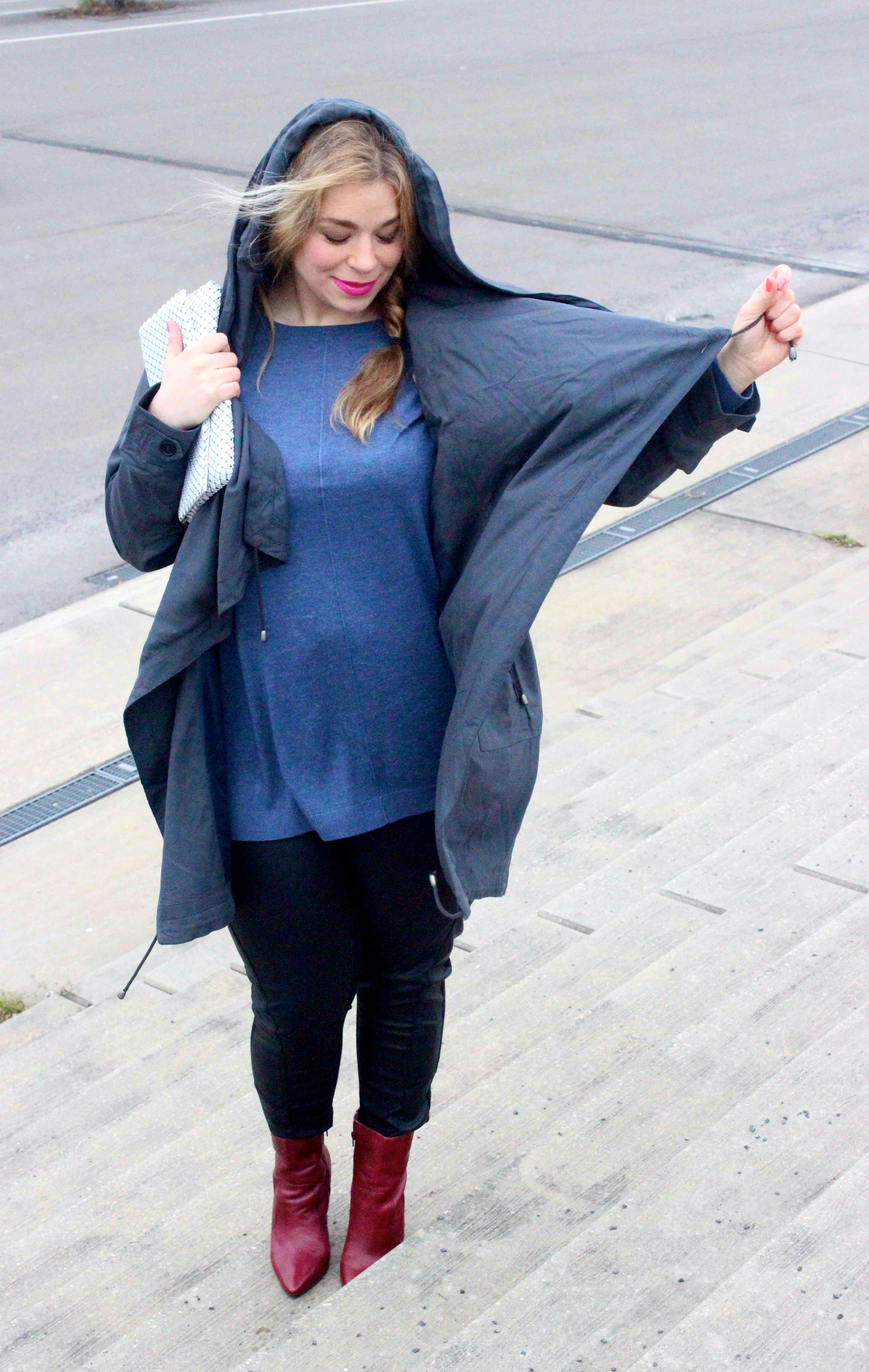 Grau, und taubengrau sowieso, kann auch sehr schön sein!
Das heutige Outfit möchte ich der eigentlich eher zu Unrecht vernachlässigten Farbe grau widmen, denn grau kann auch anders! Grau ist  ziemlich passend, um einem Outfit Kontrast zu verleihen.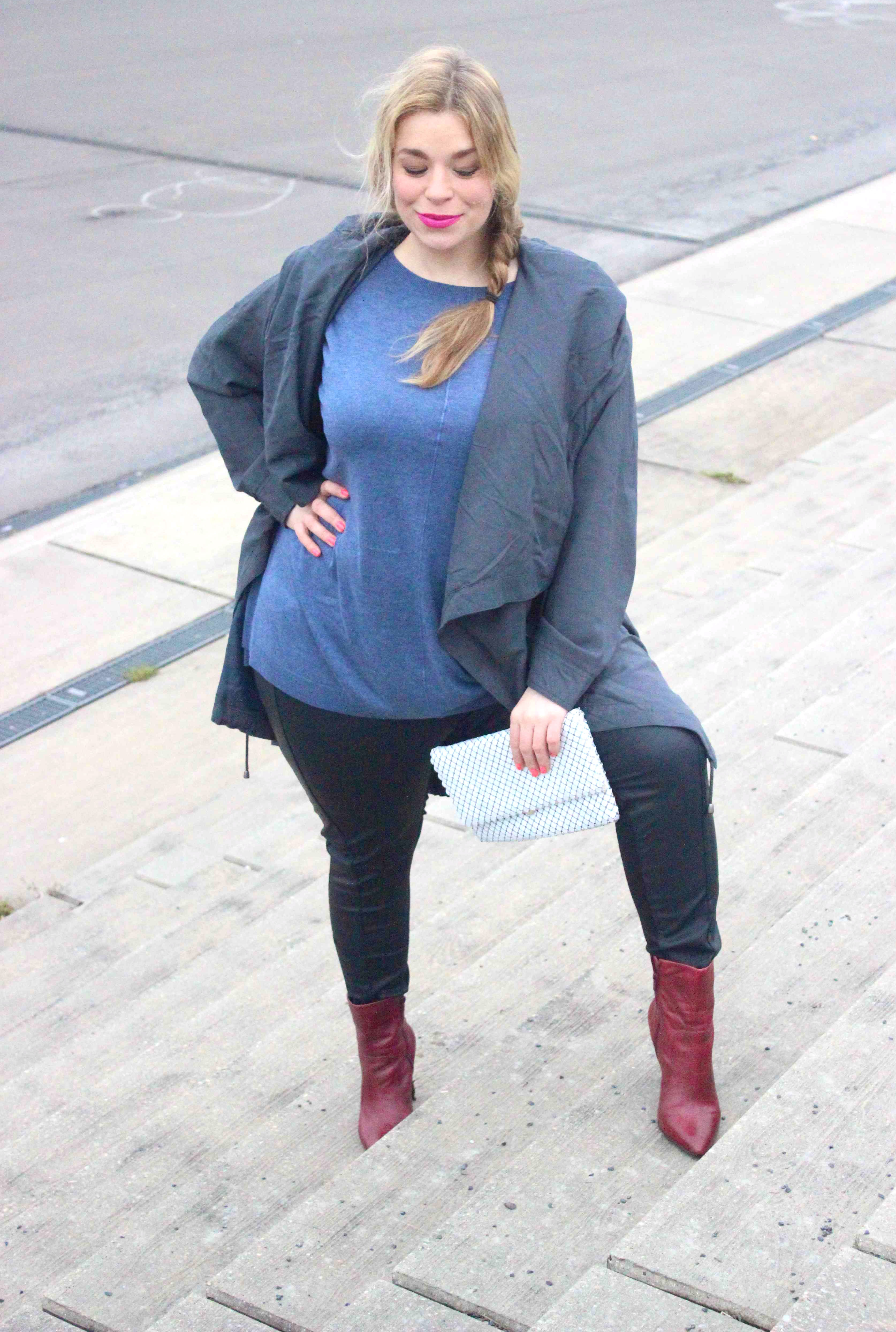 Ich bin immer sehr erfreut darüber, neue Marken kennenlernen zu dürfen, die sich mit größeren Kleidergrößen beschäftigen. Umso mehr habe ich mich darum gefreut, als mich Yoursclothing UK gebeten hat, für Euch 2 Looks zusammenzustellen.
Anfang nächster  Woche poste ich ein weiteres Outfit von Yoursclothes.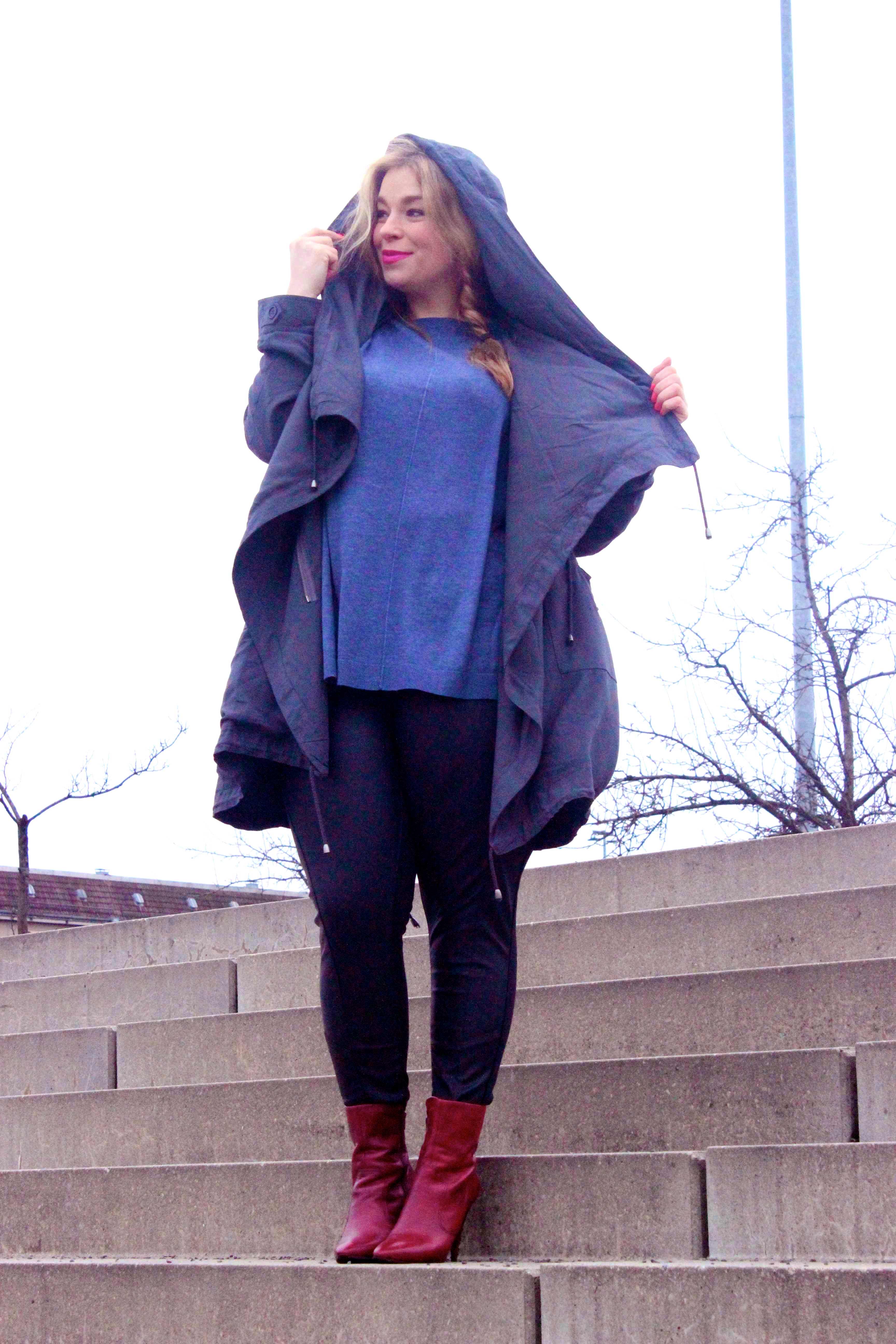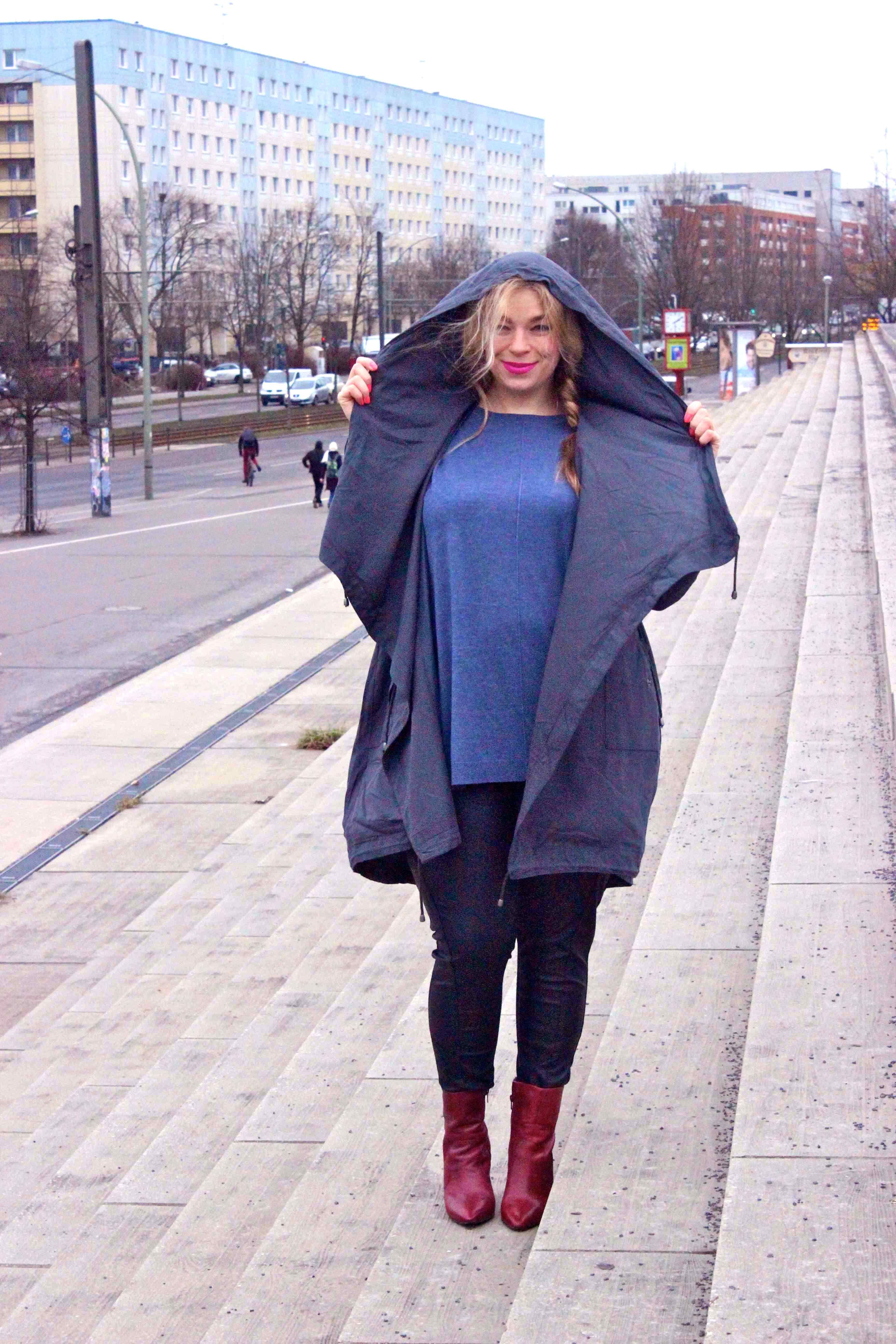 Was ich gut bei Yoursclothes finde, sind die Videos auf der Webseite.
Von den  meisten Produkten dieses Online Shops gibt es Videos.
Ich finde das sehr hilfreich, um sich vorstellen zu können, wie das Produkt in Wirklichkeit aussieht.
Bei der Wahl des Make-Ups dachte ich mir, dass ein bisschen Pop-Art nicht schadet.
Knalliges rot auf den Nägeln und pink auf den Lippen.
xx
Caterina
Outfit detail:
coat:Yours Clothing (c/o)
Sweater: Yours Clothing  (c/o)
Pu Pants: Yours Clothing  (c/o)
Shoes: Invito (similiar here)
Bag: Hüftgold Berlin
c/o=Das Produkt wurde mir unentgeltlich zur Verfügung gestellt!
c/o=This product were provided to me free of charge!
english:
Cozy & casual featuring yours clothing
I find it incredibly nice to sit inside in the warmth at the window and watch the rain.
Or thickly wrapped up in bed listening to the wind whistling through the trees.
If I have to go outside on such a windy day, although I would prefer to stay at home, I often choose to wear material mixes of leather or PU leather with knitting, either coarse or fine knit.
This season, one of the most interesting combos of last winter is trendy again and keeps us also warm this year. For this case I've choosed this oversize parka with a big hood.
I think it's great when the wind plays with the volume of the collar and hood.
The oversize sweater is wonderfully cosy, soft and made of 80% viscose.
I mention this because I do not appreciate polyester, particularly on tops.
The Pu-pants fit really wonderful. Which is unfortunately not allways the case with Pu-pants.
With such a feel-good outfit, I feel well equipped to survive the next 1 to 2 months ,when the bare sadness of nature without leaves and flowers, dos'nt really make me smile.
With the right clothes on I can even enjoy the winter and springtime.
Gray, and dove grey, can also be very nice!
Today's outfit I would like to dedicate to the wrongly neglected colour grey, because grey can be more than grey!
Grey is perfect to give contrast to an outfit and it really can be a beautiful colour.
Therefore, I want to dedicate this post in order to show you its true versatility.
Grey is perfect to give a contrast to your look, as you can see on my outfit of the day.
I am always delighted to be able to encounte with new brands that deal with plus size clothing.
I was very pleased, when "Yoursclothing UK" asked me to create two looks out of "Yoursclothing UK"  for you all. Early next week  I'll post another outfit of YouClothes .
What I think is very useful, are the photos and the videos on the website of the "YourClothes" online shop.
A plus are their great pictures and videos for most of their garments, usually it's easier to see how the product really looks via video clips. I find it very helpful to be able to imagine ,how the product actually looks like.
As choosing my makeup, I thought that pop-art would not do any harm; bright red nails and pink lips.
xx Caterina