Casual & Jeans zizzi Street Look
(English below)
"Create your own style. Let it be unique for yourself and yet identifiable for other."
(Anna Wintour)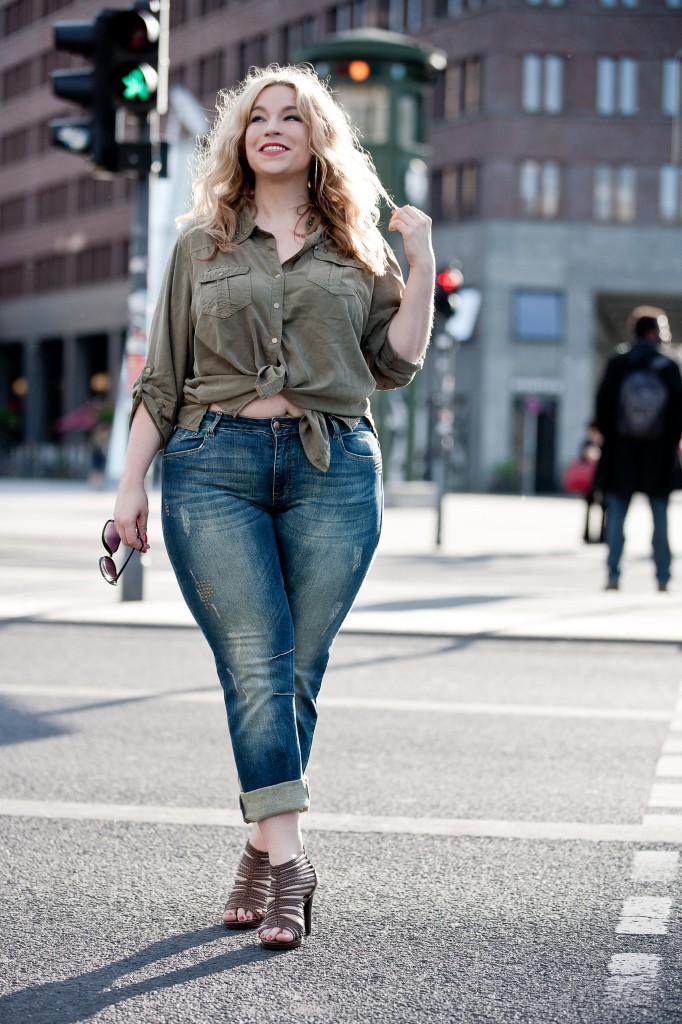 Als ich vorgestern im Zug von Amsterdam nach Paris saß, habe ich gehört, wie zwei Frauen über den Kleidungsstil einer Frau, die keine Kleidergröße 38 getragen hatte, geredet haben, und dass diese ihrer Meinung nach figurentsprechend angezogen war.
Wer mich ein bisschen kennt, weiß, dass ich es gar nicht mag, wenn Leute meinen, über andere urteilen zu müssen. Sätze wie "Wenn du eine kurvige Frau bist, solltest du keine Querstreifen tragen, keine Oberteile ohne Arme oder Skinny Jeans anziehen" finde ich ganz schrecklich.
Ich und Jeans und Casual Look waren im allgemeinen generell nie die besten Freunde. Weil ich eine Sanduhr-Figur habe, ist es wichtig, dass ich meine Taille betone. Darum passen mir Jeans oft nicht sonderlich gut. Wenn ihr das gleiche Problem habt,  solltet ihr wirklich einmal eine Jeans von einer Plus Size Firma probieren. Ich habe von dem Plus Size Label Zizzi diese Bluse und Jeans für ein Commercial Shooting geschenkt bekommen. Dieses Shooting war eine Auftragsarbeit, bei der ich gemodelt und auch das Styling übernommen habe.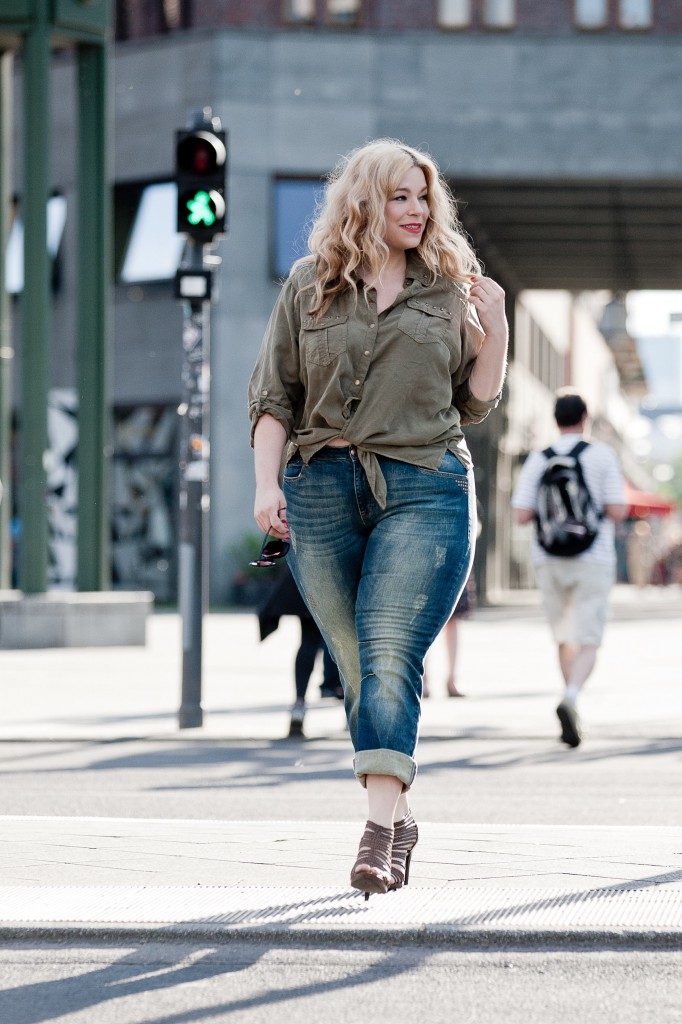 Manchmal passieren doch noch Zeichen und Wunder – die Hose passte sehr gut. Sicherlich, diese Jeans ist nicht perfekt für meine Figur. Ich würde eigentlich eher eine dunklere Waschung präferieren. Als ich die Bluse und die Jeans für dieses Shooting, bei dem diese Bilder entstanden sind, probierte, fühlte ich etwas Neues, ich fühlte mich so anders, so lässig und so herrlich unkompliziert.
Seitdem genieße ich es, auf eine weitere Styling-Variante zurückgreifen zu können. An Tagen, an denen ich keine Lust habe, mich schick anzuziehen, ist das eine nette Variante zu meiner bestehenden Garderobe. Ich kombiniere Hosen immer gern mit hohen Schuhen. Ich kann da einfach nicht aus meiner Haut!!
Ich mag die Farbkombination aus der grünen Bluse mit den braunen Schuhen. Die Jeans von Zizzi sitzen wirklich sehr gut und schön hochbündig.Die Bilder sind mit einer meiner liebsten Fotografinnen Anna Roszosny entstanden. Wir haben am Potsdamer Platz geshootet.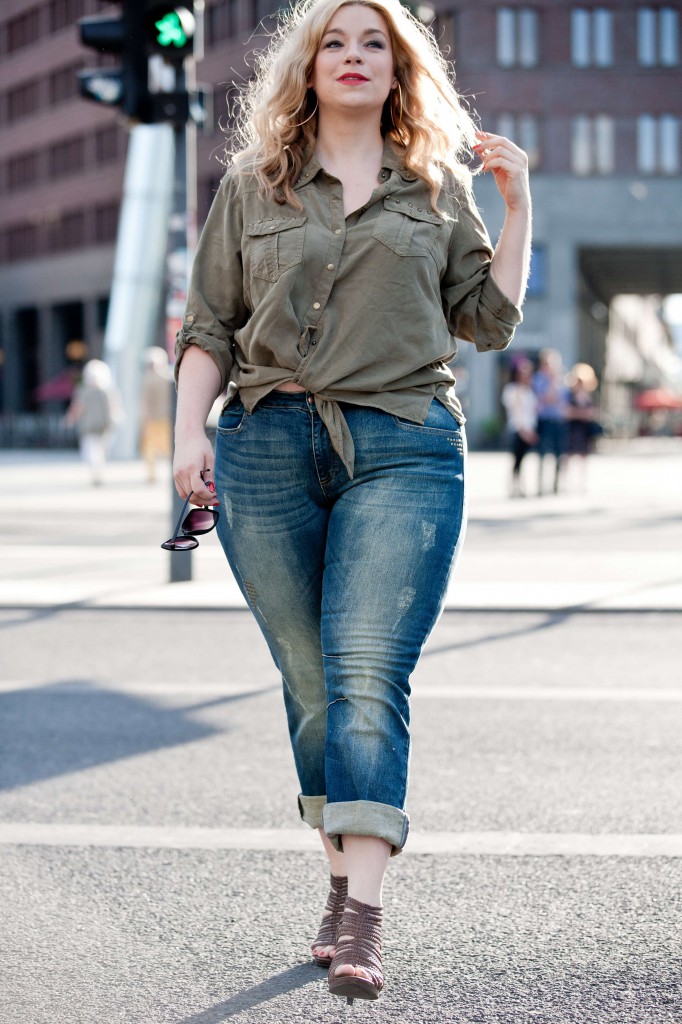 Sie hat mir die restlichen, nicht von ihr bearbeiteten Bilder freundlicherweise überlassen.Lediglich das 1  Fotos  ist bearbeitet.
Ihr wisst ja sicherlich, dass bei keiner Frau, die ihr in der Fashion Welt auf Plakaten oder in einer Zeitschrift seht, die Fotos unbearbeitet sind. Leider hat sich das Auge meistens auch schon daran gewöhnt. ich schließe mich da auch nicht aus.
Falls euch das Thema interessiert, schreibt mir gerne!
Danke liebes Zizzi-Team für diese Jeans und Bluse!
Es würde mich interessieren, ob es bestimmte Kleidungsstücke gibt, die ihr nicht tragt, weil ihr denkt, dass sie eurer Figur nicht schmeicheln?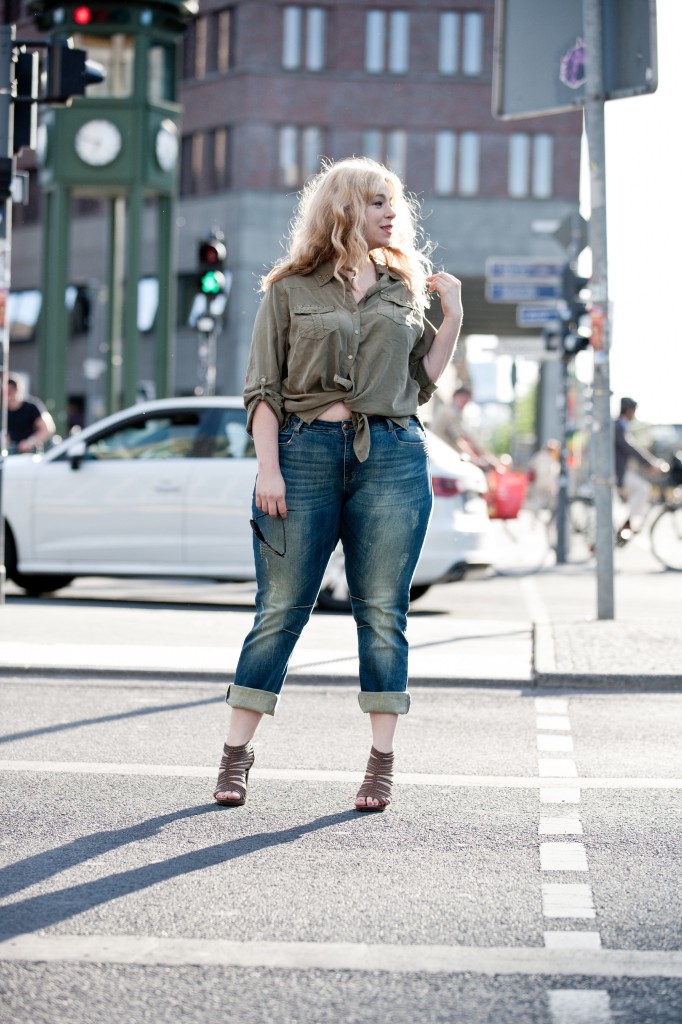 xx Caterina
Outfit details:
Jeans: zizzi (*gifted) (old) (similiar)
Hemd: Zizzi (*gifted) (old)
Shoes :Zara (Old)
Für noch mehr Bilder und Dinge, die mich inspirieren, folgt mir einfach auf  Facebook ,Instagram& Pinterest.
Casual & Jeans zizzi Street Look
"create your own style.Let it be unique for yourself and yet identifiable for other."
(Anna Wintour)
As I sat yesterday in the train from Amsterdam to Paris, I heard two women having a conversation about the style of a woman who had been above a size 38 and how the clothes she had worn hasn't been, according to their opinion, suitable for her figure.
If you know me you know I really don't like when people try to quote fashion rules.
Sentences like, "If you are a curvy Lady, you  shouldn´t wear horizontal stripes , sleeveless topes , or skinny jeans" are absolutely awful to me.
Me and jeans and casual looks have generally never been the best of friends.
I have a hourglass figure and therefore I  must be careful to emphasize my waist.Actually jeans often doesn't fit me very good. In case you have the same problem as I do, you should really try a plus size jeans.
I have been given this jeans and blouse by the company Zizzi for a commercial shooting. This shoot was a commissioned work, where I have been modeling and have also been responsible for the styling.
Well, sometimes wonder happen -  the jeans turned out to fit very well. Of course, these jeans are not perfect for me … I would rather prefer a darker wash. But now when I tried these pants and wore this wonderful shirt, I felt something new, it felt so casual and so uncomplicated.Since this experience I enjoy being able to access to this additional styling version.It is really a nice alternative for days when I don't feel like wearing chic skirts or dresses.
But still, I just have to combine trousers with high heels after all. I simply cannot get out of my skin!
I also really like the combination of the green colour of the blouse and the colour of the shoes.
The jeans from Zizzi fits amazingly well and above all it has a beautiful high waist.

The pictures were made during a shoot with my favorite photographer Anna Roskoszny, which has taken place at the Potsdamer Platz in Berlin.
Anna has been so kind to leave the images she wouldn't need and hadn`t been edited to me.
Only the first picture had been edited.
As you know that is actually not normal in the fashion industry. Unfortunately we are also already so accustomed to it that we don't recognize it anymore.If you are interested in this subject feel free to write me.
Thank you dear Zizzi team for the jeans and blouse!!
I am curious if there are certain items of clothing that you don't like to wear because you think that they do not flatter your figure?
xx Caterina
And for more pics and updates, follow me on Facebook, Instagram & Pinterest.