BLACK & WHITE im Bikiniberlin
(english below)
Diese Saison sind Komplettlooks ein wichtiger Trend. Ich wollte es noch etwas auf die Spitze treiben und habe mich für die beiden Farben entschieden, die gegenseitiger nicht sein können.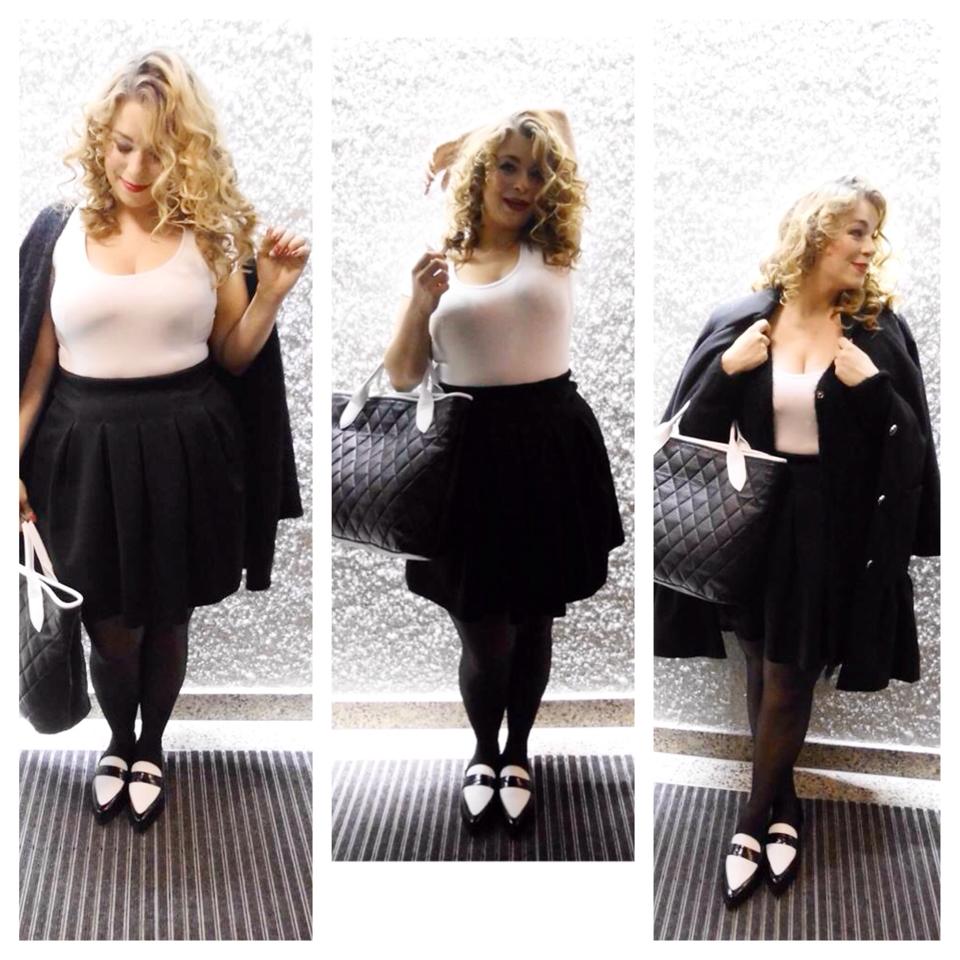 Diese Farbkombination ist wahrlich nichts Neues. Schwarz/Weiss ist eine der klassischsten Farbkombinationen überhaupt. Ich mag  diesen Kontrastreichtum sehr. Ich finde schwarz und weiß geht immer und zu  jeder Jahreszeit.
Es passiert nur selten, dass ich mich wirklich Hals über Kopf in einen Faltenrock verliebe, aber als ich diesen wunderschönen schwarzen  Rock zum ersten Mal sah, war es sofort um mich geschehen! Der Schnitt, die Passform, einfach perfekt. Denn oft machen mich Faltenröcke breiter oder einfach unförmiger.
Ein weißes Basic-T-Shirt sollte meiner Meinung nach jede Frau in mehrfacher Ausführung in Ihrem Schrank haben. Es ist für mich ein absoluter Klassiker, der so viele verschiedenen Stylings zulässt.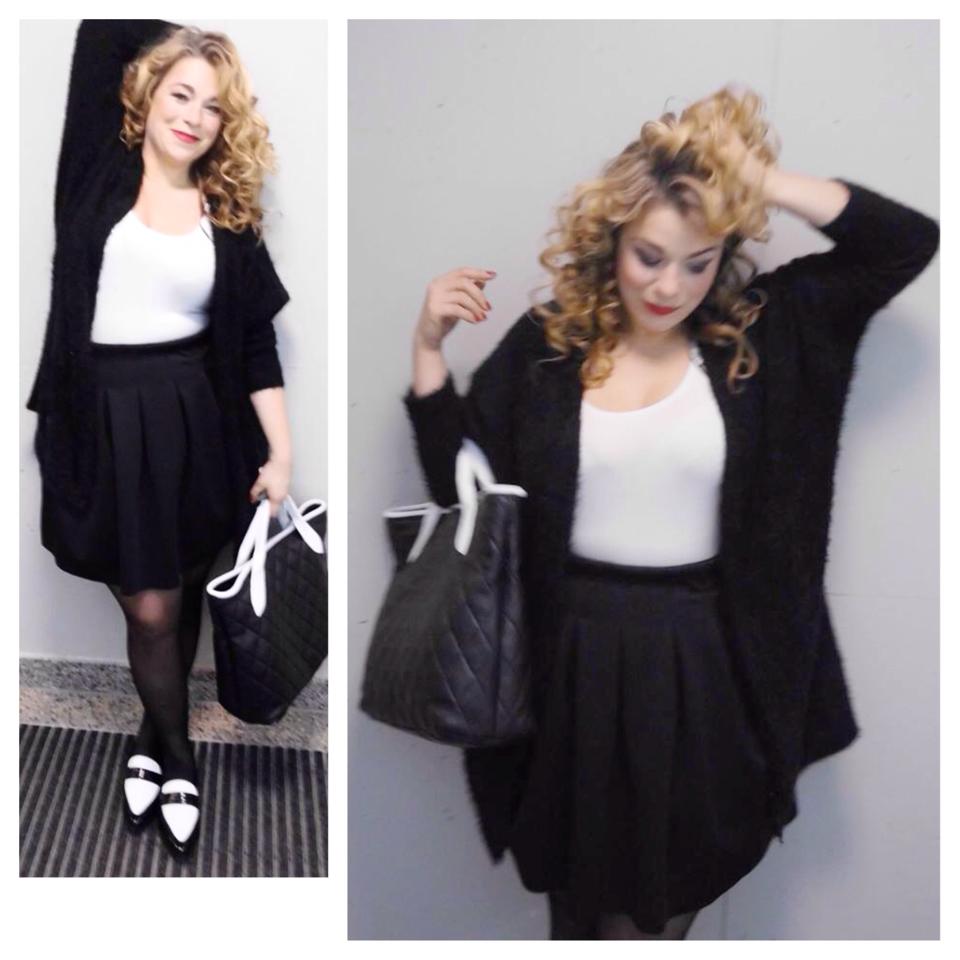 Strick ist ein wichtiger Trend für den Herbst und den Winter.
Diese Strickjacke ist sehr weich, hat eine schöne Struktur und ist perfekt für kalte Tage.
Zu meinem Schwarz-Weiß-Look gehört natürlich auch ein schwarzer Mantel.
Ein toller schwarzer Mantel ist Gold wert, ich spreche da aus Erfahrung…
Dieser Mantel zeichnet sich durch  viel Liebe zum Detail aus; wundervolle Knöpfe, ein schönes Innenfutter und eine Kontrastnaht sind zu nennen. Ich habe ihn das erste Mal an Laura Whitmore  gesehen, auf der diesjährigen London Fashion Week.
Laura Whitmore ist  das Gesicht von MTV in UK. Da wußte ich noch nicht, dass Kilian Kerner Sense auch in großen Größen produzieren lässt.
Ich liebe diese Schuhe, sie haben mich zu diesem Look inspiriert!
Ich habe sie im Schaufenster gesehen und hatte sofort das Outfit, das ihr hier seht,  vor Augen!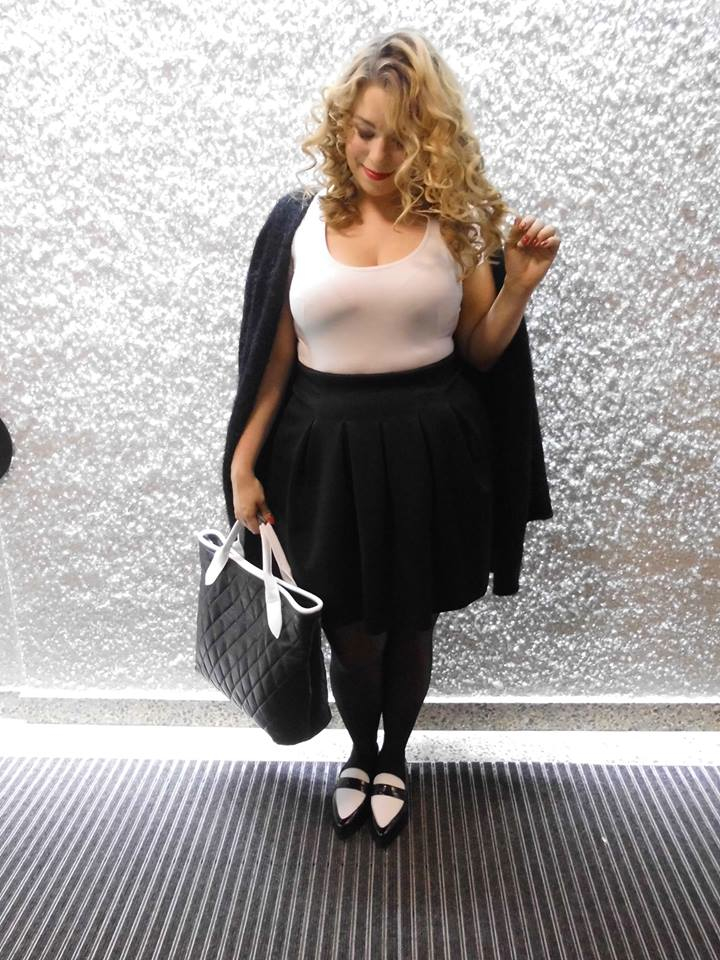 Ich danke dir, Vivien von der Drybar, dass du mir diese  tollen Locken gezaubert hast und meiner Sophie, dass Sie trotz Krankheit die Fotos aufgenommen hat!!
 xx Caterina
Outfit details:
Coat: KIlian Kerner Sense  (by Atelier blanche)*
T Shirt: H&M (old) (similiar)
Skirt: Zizzi *
cardigan: Zizzi
Shoes: Bagatt (Bikiniberlin)*
Bag: Bagatt*
* Die Produkte wurden mir unentgeltlich zur Verfügung gestellt!
* The products were provided to me free of charge!
Für noch mehr Bilder und Dinge, die mich inspirieren, folgt mir einfach auf  Facebook ,tumblr,Instagram& Pinterest.
BLACK & WHITE bikini in Berlin
This season, complete looks are a major trend.
I wanted to go tot he extremes have decided to go for the two colors that couldn't be more different.
Of course, this color combination is really nothing new. Black and white is one of the most classic color combinations ever. I love this very richness of contrast.
I think black and white always works, in every season, and in any season.
It rarely happens that I really fall head over heels in love with a pleated skirt, but when I saw this beautiful one for the first time, I was hooked! The cut, the fit, just perfect.
All too often, pleated skirts make me look broad or just misshapen.
In my opinion, every woman needs a basic white t-shirt in different styles in their closet.
It is an absolute classic that allows so many different styles for me.
Knitted items are also one of the trends for this fall and winter.
This sweater is very soft, has a beautiful structure and is perfect for cold days.
Part of my black and white look naturally includes a black coat.
A great black coat is worth gold. I speak from experience …
This coat is so special because so much attention was paid to detail; wonderful buttons, a beautiful inner lining and contrast stitching to name but a few.
I saw this coat for the first time on Laura Whitmore, at this year's London Fashion Week. Laura Whitmore is the face of MTV in the UK.
Then, I didn't know that Kilian Kerner Sense also made the coat in plus sizes.
I love these shoes, they have inspired me to create this look!
I saw them in the shop window and immediately had the outfit that you see here, before your veryeyes!
Thank you to Drybar's Vivien for helping me with these great curls and to my dear friend Sophie, for taking these photos, despite being so ill!
xx Caterina 
And for more pics and updates, follow me on Facebook,tumblr, Instagram & Pinterest.