Leather meets creme
(English below)
Was ich an Mode so sehr liebe, ist, dass ich mich damit verwandeln kann. Meine Freundin Sophie hat mich kürzlich gefragt, ob ich lieber fliegen könnte oder unsichtbar sein möchte. Ich finde, die Frage sollte erweitert werden um die Möglichkeit, sich verwandeln zu können.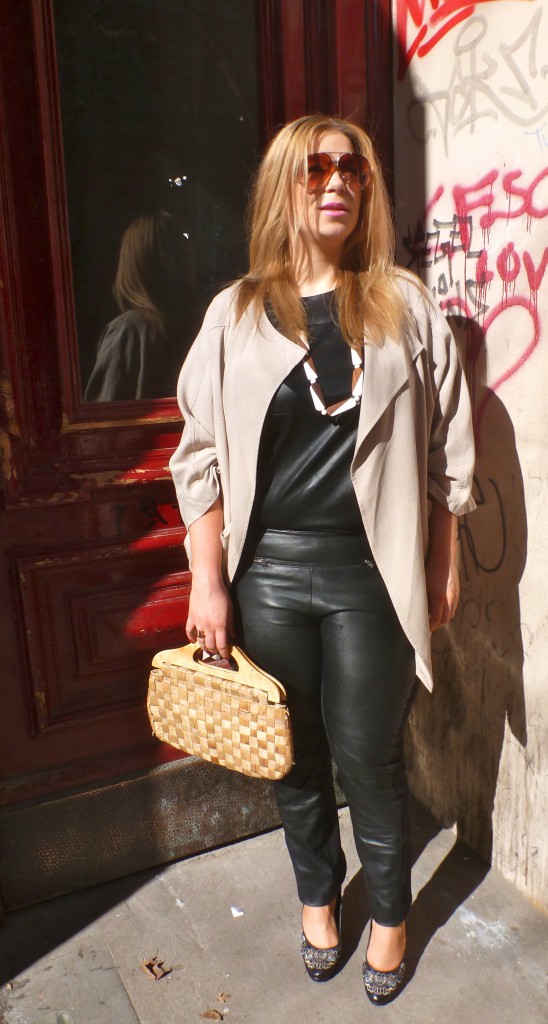 Dieses Outfit heute ist für mich so eine Option auf Verwandlung. Wenn ich dieses Outfit trage, muss ich immer an das Zitat von Kimora Lee Simmons denken. "Always dress like you`re going to see your worst enemy." Ich fühle mich mit diesem Styling wirklich gut. An Tagen, an denen ich mich verwandeln möchte, braucht es genau so ein Outfit.
Wer mich kennt, weiß, dass das eher ungewöhnlich für mich ist. Hier kombiniere ich mehrere Styles auf einmal . Wer sagt, dass man nur einen tragen darf !? Ich liebe es, sogenannte Styling Regeln zu brechen und auch Materialbrüche mag ich sehr.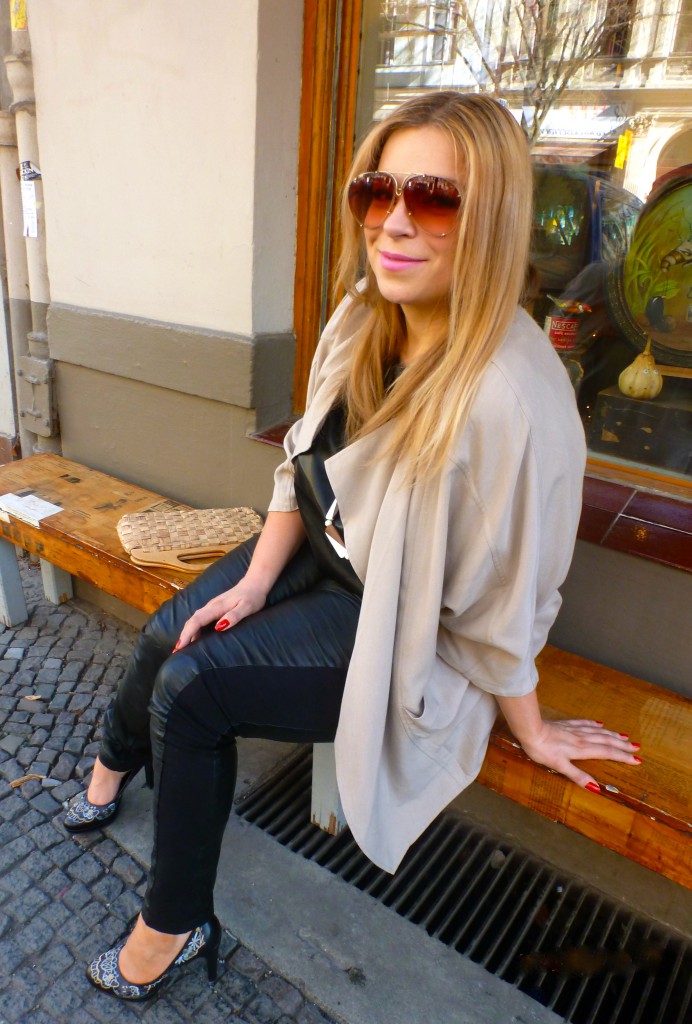 Damit die schwarze Lederhose in Kombination mit dem Kunst Leder  top nicht zu hart wirkt, habe ich dazu den Mantel gewählt. Dieser leichte cremefarbige Mantel aus einem weich fliessenden Stoff,nimmt dem Leder die schwere .
Bei den Accessoires spiele ich mit dem Safari Look. Die Holzkette und die Tasche kommen mega in  der Naturfarbe zum schwarzen Leder. Beim Make-Up dachte ich mir, dass ein bisschen Pop Art nicht schadet. Knalliges rot auf den Nägeln und Pink auf die Lippen.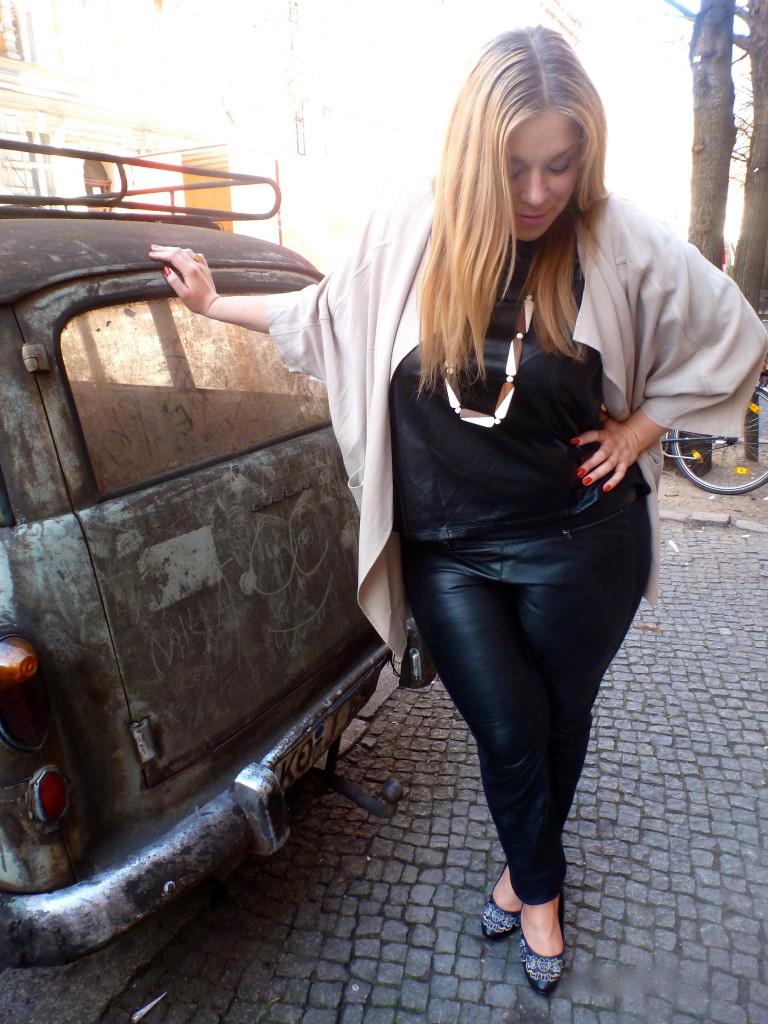 Habt ihr auch solche Verwandlungsoutfits?!
xx Caterina
Outfit details:
leather pants: Junarose
Creme Coat: junarose
Top : Vila (old) (similiar junarose)
Shoes: (Old)
Für noch mehr Bilder und Dinge, die mich inspirieren, folgt mir einfach auf  Facebook ,Instagram& Pinterest.
Leather meets cream. 
What I love so much about fashion, is the opportunity it gives me to transform myself. My friend Sophie recently asked me if I would prefer to fly or be invisible. I think the question should be expanded to include the ability to transform onesself. 
This outfit I am wearing today allows me to transform myself. When I wear this outfit, I always have to think of the quote from Kimora Lee Simmons. "Always dress like you`re going to see your worst enemy." This style makes me feel really good. On days when I want to transform myself, it takes just this one outfit.
Anyone who knows me knows that this is unusual for me. Here I combine several styles at once. Who says you can only wear one style? I love to break so-called styling rules and I also like to mix and match my choices of material.
I chose the coat to make the combination of black leather trousers and synthetic leather top not look too severe. This lightweight cream-colored coat made of soft flowing fabric lightens the whole appearance. 
My accessories are based on the safari look. The wooden chain and the bag both look incredibly natural alongside the black leather. As far as my make-up is concerned, I thought that pop art would not hurt. Then bright red nails and pink lips. 
Do you also have similar outfits with which to transform yourself?
xx Caterina
And for more pics and updates, follow me on Facebook, Instagram & Pinterest.