City Look Berlin Samoon
(English below)
Ich war gestern mit einer sehr guten Freundin in einer traumhaften Sauna-Anlage in Berlin. Im "Vabali" müsst Ihr unbedingt auch einmal vorbei schauen.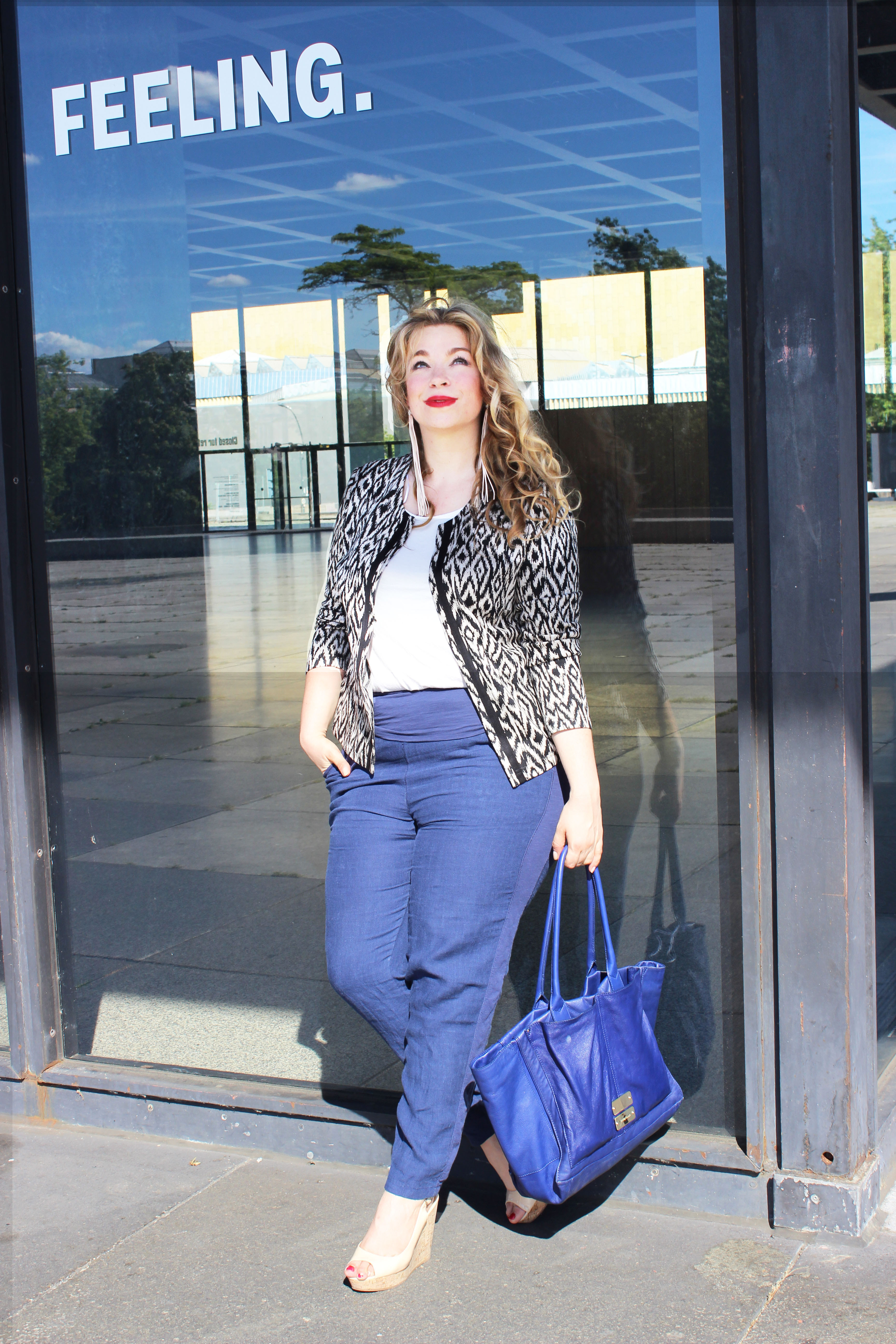 Ihr wisst ja vielleicht von mir, dass ich sehr gerne auch zuhause einige Spa-Tage verbringe.
Hier in diesem Artikel habe ich es beschrieben. Es war wundervoll und so ein Tag gibt mir viel Kraft für alle Anstrengungen im Leben, die noch auf mich warten.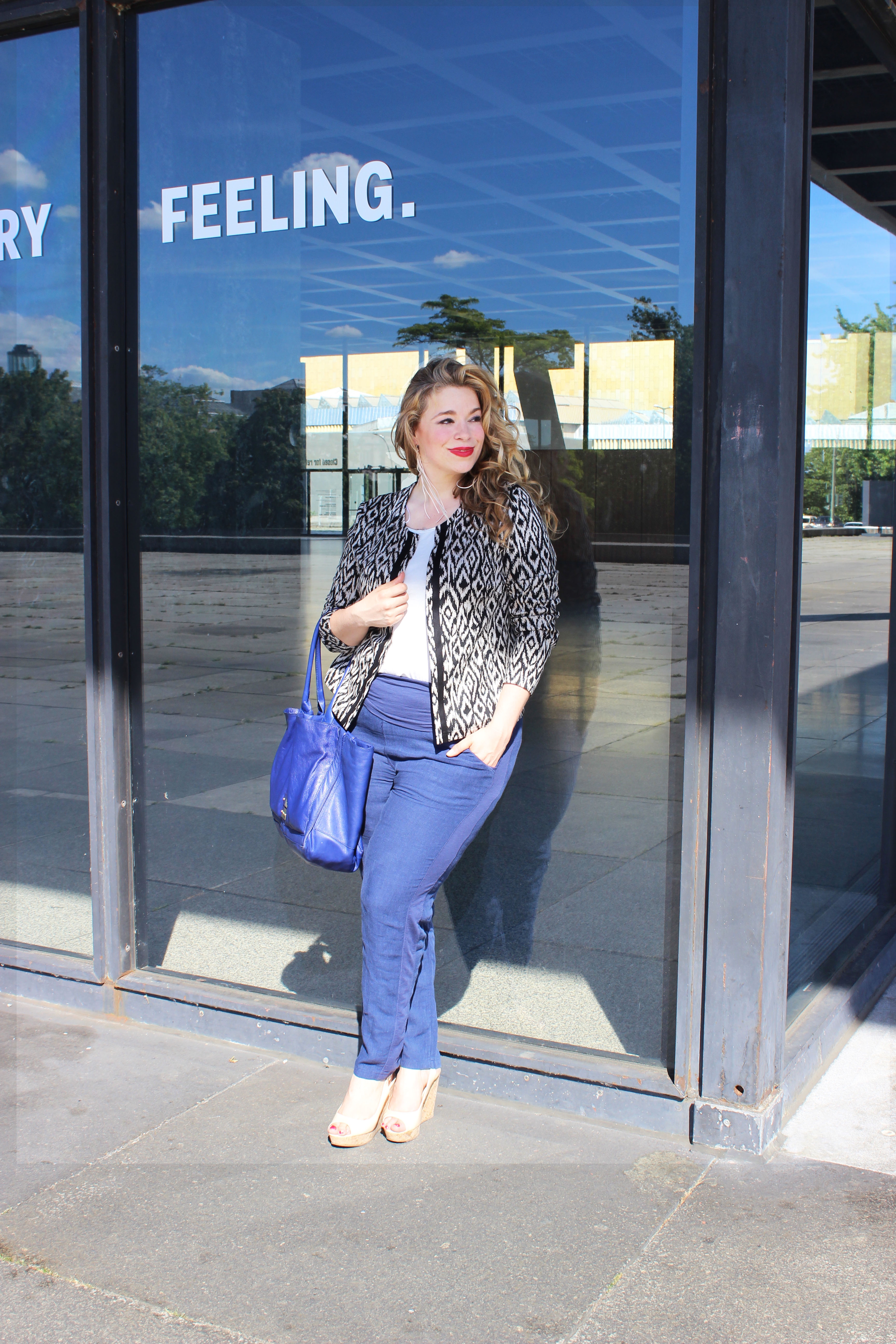 Jetzt habe ich gerade meine geliebten Augenpads auf dem Gesicht, packe meine Spa-Tasche aus und freue mich sehr, Euch mein heutiges Outfit zu zeigen. Ich wollte Euch schon immer mal zeigen, dass ich gerne Stylingregeln breche.
Hier sind also die Farben schwarz und blau kombiniert und das finde ich sehr schön. Mode soll Spaß machen, ein Ausdruck Eurer Stimmung und nicht Zwängen unterlegen sein. Ich hatte schon lange keine Leinenhose mehr im Schrank. Diese mag ich besonders gerne.  So eine Jacke wie diese ist vielfältig einsetzbar.
Ich versuche nun öfters mal ein weißes T-Shirt in meine Looks einzubauen.
Beim letzten Look  habt ihr das ja vielleicht auch schon gesehen. Warum mache ich das?
Weil ich zeigen möchte, dass man sich rundum mit Basics sehr gute Outfits kreieren kann.
Ach ja und meine große Liebe zurzeit ist meine blaue Tasche, die groß genug ist, um alles unterzubringen, was ich an einem langen Tag in Berlin benötige. Die Locken habe ich mit dem
Curl Secret Ionic-C1100E gezaubert.
Kinder, ich hoffe, Ihr könnt auch bald so schön entspannen wie ich heute, ob nun beim Home-Spa oder in einer Spa-Anlage in Eurer Stadt.
Eure Caterina
outfit detail:
Body: Forever21+ (old)
Pants: Samoon*
Jacket: Samoon*
Leather orbells: H&M
Shoes: Shop in italy
English:
I have been in a fantastic sauna complex in Berlin, called "Vabali", with a very good friend, today. You should definitely go there also. How you perhaps know, I love doing Spa days at home.
In one article I already did describe it. Today was a great day and such a day gives me so much strength for all the efforts which are waiting for me in my life.
At this moment I have my beloved eye pads on, am unpacking my spa bag and I am very pleased to show you my outfit today. I always wanted to show you how to break styling rules, like I do.
I love to combine the colors black and blue. for a long time
I haven`t had line-paints in my cupboard, which I specially love.
I am trying more often to combine a white shirt into my outfits.
One of the looks you have perhaps already seen.
Why am I doing this?: I want to show you that you can create all-round-outfits very good with basics. Oh yes, and right now is my blue bag my huge love, it is large enough to put all stuff in in it on a busy day in Berlin.
Guys, I hope you can relax as great as I did, as soon as possible.
Big Hugs,
yours Caterina
*=Das Produkt wurde mir unentgeltlich zur Verfügung gestellt!
*=This product were provided to me free of charge!